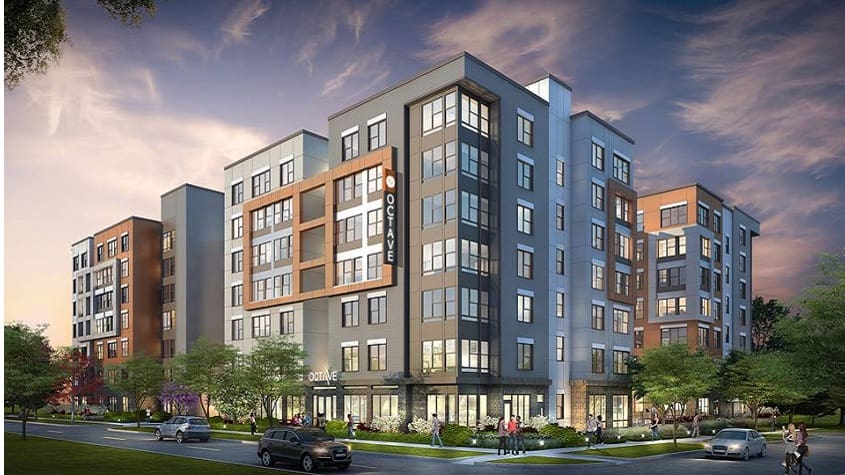 Gilbane Development Company announced the launch of five new student housing developments around the country.
All buildings plan to begin operations by Fall 2020, apart from Octave at University of Illinois Urbana-Champaign, which is scheduled for Fall 2019 occupancy. Altogether, the projects will hold over 3,500 beds and are valued at more than $400 million.
Future residents will have access to top-of-the-line amenities, including swimming pools, fitness centers, clubhouses, and computer labs. All communities offer students fully furnished units, featuring bed and bath parity, high speed internet, diverse options and activities for physical and mental fitness and wellness, personal and group study areas, among other best-in-class community areas to enjoy. The properties are designed to specifically suit the needs of today's modern student and will be professionally managed.
The student housing developments include:
Octave, located 2 blocks from The University of Illinois Urbana-Champaign (UIUC), a 2 building, 538-bed complex located at 210 South Fourth Street in Champaign. Octave is currently leasing at www.liveatoctave.com and will open for student occupancy in 2019;
Alor, a 3 building, 946-bed purpose built student housing and 64 units of market rate/workforce housing, development just 1,000 feet from Arizona State University's Tempe, AZ campus. Alor will feature 12,000 SF of retail and a structured parking garage along with best-in-market amenities including two unique pool areas: A rooftop swimming pool with panoramic views and a courtyard swimming pool. Additional amenities include a 25,000 SF rooftop amenity deck and sky lounge, a 6,000 SF open-air fitness center with cardio, full weights, and fitness/yoga center, outdoor courtyards with fire pits, cabanas, spa, central clubhouse, 24-hour study lounges, game rooms, and computer lab;
Sierra, a 228-unit building abutting the southeast corner of Oregon State University's campus in Corvallis, OR. Amenities include a heated pool, clubhouse, fitness center, game room, group study rooms, structured parking, a garage and 3 courtyards. The property is also only a few blocks from Downtown Corvallis;
Towson Row, where Gilbane Development will deliver 720 beds of student housing just .3 mile from the Towson University campus as part of Towson Row, a $350 million mixed-use development with over 1 million SF of retail, hotel, residential, and office space in Towson, MD. Amenities will include clubroom, fitness center, computer lounge, study rooms, game room, and two elevated courtyards, which collectively includes a swimming pool, grilling area and other outdoor amenities such as fire pits and hammock pergolas.
Bixby at Kennesaw State University (KSU) in Kennesaw, GA, 30 minutes north of Atlanta, which will consist of 656 beds, a structured parking garage, and approximately 3,000 SF of retail. Amenities will include a heated saltwater swimming pool and rooftop skydeck overlooking the KSU football stadium. Bixby is scheduled for a 2020 opening;
"We are excited to further expand our student housing portfolio and to provide our trademarked Next Level of Student Housing™ experience to students, parents, and campuses around the country," said Russell Broderick, Senior Vice President of Gilbane Development Company.