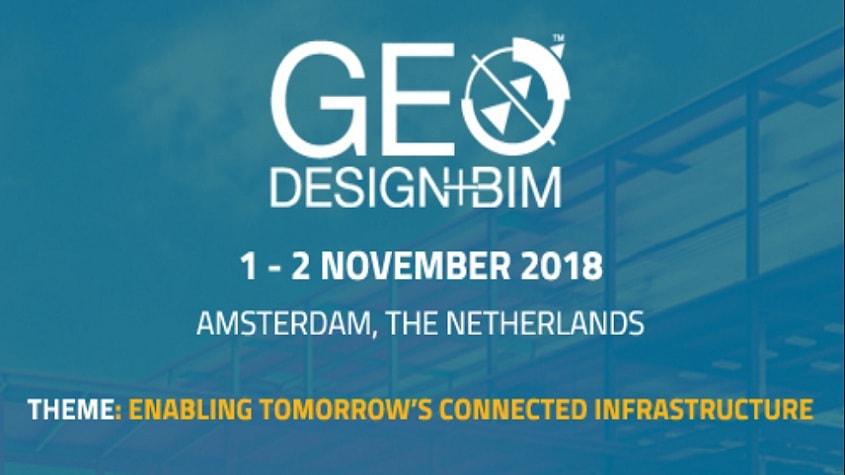 GEO| Design+BIM, a platform that highlights the integration of geospatial data analytics and Building Information Modelling (BIM) in asset spatial design, construction, and operation and maintenance, is gearing up for its 5th edition this coming 1-2 November 2018, in Amsterdam.
With the theme 'Enabling Tomorrow's Connected Infrastructure', key topics to be discussed this year include Collaborative Workflow, Digital Transformation, City Information Modeling, Open BIM, Digital Twins & 4D BIM, Cloud Worksharing, Smart Cities, Energy Transformation, etc.
The conference is supported by leading brands in the geospatial and construction industry – Autodesk, Esri, FARO, Hexagon Geosystems, Pix4D and Clove Technologies; alongside various partnerships with industry stakeholders, including Schiphol Group, Ballast Nedam, Royal HaskoningDHV, WGIC, OGC, BIM Academy and BIM Loket.
The biggest highlight of the 2018 edition would be its impressive lineup of speakers. Ranging from architecture firms, design-engineering firms, construction firms and asset management entities, more than half of its 50+ speakers are from user organizations. Followings are the top 20 user speakers to look out for at the conference this year:
Menno de Jonge, Director Digital Construction, Royal BAM Group
Dr. Ir. Jan Van Steirteghem, Director, Engineering & Methods Department, BESIX
Phil Langley, Director, Digital Delivery, Bryden Wood
Francisco José Gonzalez, Infrastructure BIM Expert, SENER
Saana Vuorinen, Maintenance Manager, Port of HaminaKotka
Anne Kemp, Fellow of BIM, Geospatial and Digital Engineering, Atkins
Magdalena Pyszkowska, Global Head of BIM Deployment, Bouygues Construction
Joana Menéres Pimentel de Melo, Head of BIM Department, Sacyr
Luke Cooper, Digital Specialist, Arup
Harry Ibbs, Head of BIM & Workflows, ZahaHadid Architects
Paulus Eckhardt, Director Design & Engineering, Ballast Nedam
Michael Gaunt, Senior Manager, Information Management, Mott Macdonald
Andreas Hesterkamp, Senior GIS/BIM Engineer, HOCHTIEF Infrastructure
Aki Kopra, Development Manager, Kreate
Maaike Beerepoot, BIM Program Manager, Rijkswaterstaat
Øyvind Svaland, BIM Manager, Veidekke
Olli Poutanen, Head, WSP Game Studio
Louis Smit, Strategic Advisor, Geo-information, City of Rotterdam
Alexander Worp, Strategic Advisor BIM, Schiphol Group
Sileshi Tesema, Senior CAD Technician, Source Design Services, Kier Group
Full speakers list is available here.
"This is without a doubt our best speaker lineup yet. Attendees can expect a high-quality event with improved content, attendees profile and more interaction and engagement opportunities. We're ecstatic to deliver the conference this year, and to carry the momentum for more editions to come," adds Anamika Das, Vice President, Outreach and Business Development at Geospatial Media and Communications, the conference organizer.
About GEO|Design+BIM
GEO|Design+BIM is an exclusive event in Europe, highlighting and initiating discussions related to the use of geospatial data analytics and BIM in asset spatial design, construction, operation and maintenance. The event is a combination of two innovative platforms: GeoDesign Summit Europe and GeoBIM Europe, which were organized separately since 2013. Understanding the relevance and importance of bringing the geospatial analytics, spatial planning, architecture, engineering, construction and operation/maintenance professionals together on one platform, a combined effort was initiated in 2017, giving birth to this exciting integrated event. Visit www.geo-bim.org/europe to learn more.