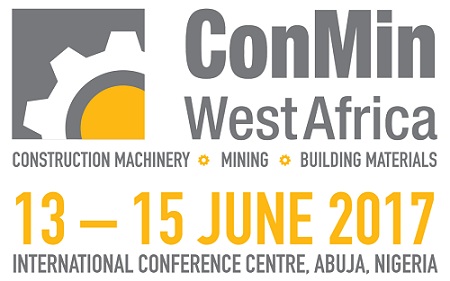 Due to the recently announced planned closure of Abuja's airport in March, ConMin West Africa Exhibition and the National Mining Summit has been moved from April to 13 – 15th June 2017.

With a large proportion of attendees and speakers travelling from Lagos and internationally, we believe the event cannot be run without use of the airport.
ConMin West Africa, is an Exhibition to service the rapidly growing construction machinery and mining industries in West Africa. The Exhibition is organised by Afrocet Montgomery, who run Africa's largest mining show, 'Electra Mining' in Johannesburg and IMAG who own the global construction brand 'Bauma'. The event is running in partnership and with full endorsement from the Ministry of Solid Minerals, Deloitte and Asoko Insight. It will be held at the International Conference Centre in Abuja between 13th – 15th June 2017 and will act as a platform for key stakeholders, both regional and international, to converge and discuss business prospects and display leading technologies and equipment in both the construction and mining sectors. ConMin West Africa 2017 is expected to attract over 150 companies in 2017 who will exhibit their products and upwards of 3000 visitors from the West African Mining and Construction sectors.
The National Mining Summit, running alongside ConMin West Africa, will see top level participants from the Nigerian government and the country's mining industry converge in Abuja. With the Honourable Minister set to open the show, Afrocet Montgomery is also expecting Governors from key mining states; Ministers from other West African countries, Partners from leading law firms and key financiers including the African Finance Corporation.
Topics to be addressed at the Summit will cover all pertinent issues facing the sector and will seek to stimulate interest from international and national investors through clarification of policy and industry developments by principle stakeholders and decision makers. Due to the important position it occupies economically, the mineral and mining sector has been voted as a relevant platform for job creation, poverty alleviation and wealth creation. However, the sector is challenged by some unfavourable conditions with regards to access to funding, inadequate geological data and skilled labour. As such, the Summit has been designed to accommodate sessions from experts and government representatives confronting these issues head on thereby acting as a knowledge sharing platform. The summit will also host sessions on 'lessons learned' from Ministers and Operators from other African nations which are further ahead in their mineral sector development.
Participants will benefit from unparalleled exposure to national and international prospective operators, policymakers and suppliers. It will be a strong platform to encourage investment into the country and is set to become the preferred deal-making platform for mining in Nigeria.
For more information interested parties are urged to visit www.conminwestafrica.com
Jamie Pearson
Jamie.pearson@montex.co.uk
+44 207 806 3046