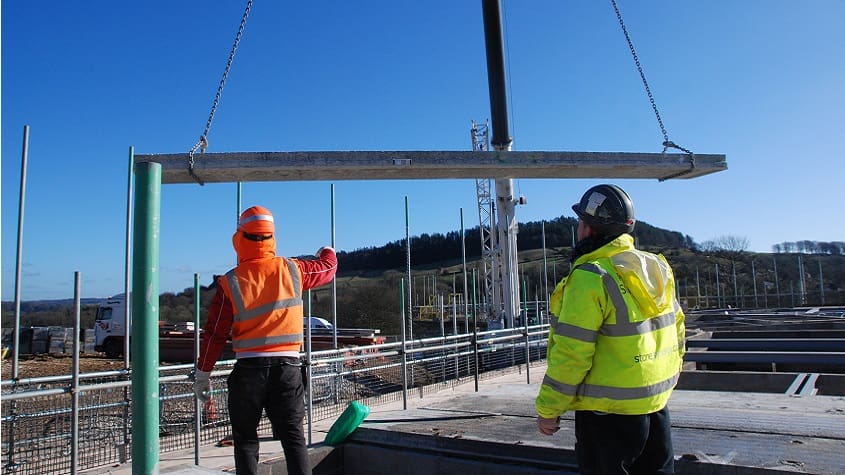 Pre-cast concrete materials manufacturer, Charcon Construction Solutions, part of the Aggregate Industries group, has introduced an innovative lightweight stairs product to its pre-cast concrete portfolio after combining the lightweight secondary aggregate – Lytag – with its concrete.
The lightweight nature of the stairs make them ideal for multi-storey residential or commercial projects. That's because a lighter product makes it easier to lift them into place and also install, which helps to reduce crane costs and also installation time. Plus, lighter concrete can also reduce the dead load of the overall structure, meaning less foundations are needed, creating further and substantial cost savings.
Despite its lightweight nature, the new stairs provide the same level of structural performance as normal weight concrete. These stairs are unique to Charcon Construction Solutions, and not available from anywhere else in the UK.
The stairs are made by combining unique Lytag into the concrete mix. Lytag is produced from the fly ash generated by coal fired power stations. The use of revolutionary technology transforms the fly ash into small round pellets, which are then heated to 1,100°C. This creates a very hard pellet with a honeycombed internal structure of interconnecting voids within the aggregate, making it structurally robust yet lightweight.
The pellets formed are rounded in shape and range in size from 14mm down to fine sands and powders, and can then be used as a superior, consistent, lightweight aggregate that is up to 50 per cent lighter than natural aggregate. By using Lytag in Charcon Construction Solutions' pre-cast stairs, it therefore means customers can enjoy a product which is up to 20 per cent lighter than the company's standard stairs.  
Richard Baldry, general manager at Charcon Construction Solutions, said: "Innovation is an important part of the work we do at Charcon Construction Solutions and Aggregate Industries. We are always developing products with the customer in mind; in this case creating a solution that will increase the efficiency of the build, saving time and money. By combining Lytag into our pre-cast concrete stairs, we have created a unique product – one that is not available from any other manufacturer in the UK."
Charcon Construction Solutions' offsite manufactured pre-cast structures are designed to exact requirements to ensure a bespoke product that is quick, safe and cost effective to install. Offsite manufacture eliminates the need for the expensive formwork and propping traditionally associated with in situ construction methods. The products are delivered as and when needed, saving onsite storage space and labour costs.
An expert Charcon Construction Solutions' fitting team can ensure ease of installation and help speed up construction programmes by allowing follow on trades to continue to work safely between floor levels. Lifting points are fitted during manufacture to allow for easy off loading and placing of units.