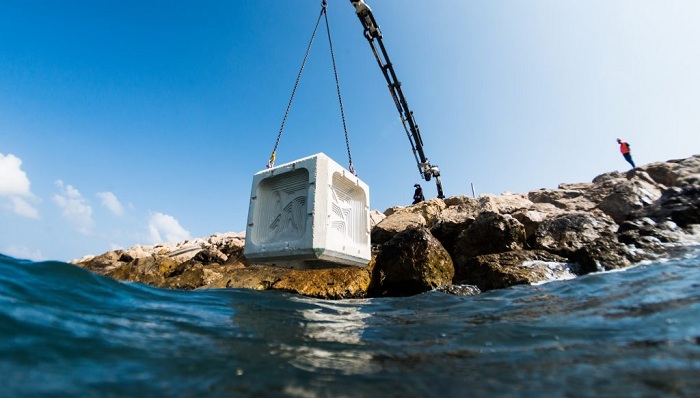 ECOncrete, An Israeli startup delivering high-performance bio-enhancing concrete technologies, announced it is raising 5 million dollars to accelerate growth, in an A round led by Impact investor Bridges Israel. ECOncrete products and technologies can be seamlessly integrated into construction of breakwaters, seawalls and piers enhancing marine life while strengthening the infrastructure, providing concrete solutions to some of the world's pressing climate change issues.
As part of ECOncrete growth strategy, they are currently scaling up their operations, diving into new geographies and sectors, such as the offshore energy arena, and sustainable construction of urban waterways and green construction. 'RElab (Goldacre Ventures)' are also participating in the round, with ECOncrete part of the RElab 2020 PropTech cohort.
Ido Sella, Co-founder and CTO of ECOncrete: "Ocean health and human health are entwined, especially today. We need strong coastlines and diverse marine ecosystems to protect and sustain coastal communities across the globe. ECOncrete brings a win-win technology that enhances marine life while providing risk reduction by building environmentally-sensitive concrete coastal infrastructure for stronger industrial ports, marinas, and urban waterfronts."
Sandrine Montsma, Managing Partner at Bridges Israel: "In ECOncrete we found an outstanding leadership team and a unique, proven technology and product line which meets the needs of construction companies and regulators around the world for building marine infrastructure while protecting marine life. We believe this market is a Blue Ocean – pun intended! "
Shimrit Perkol-Finkel, Co-founder and CEO of ECOncrete: "Covid19 is a wakeup call. We can't keep protecting ourselves while destroying precious marine resources. It's time to make a change and set new environmental standards for coastal and marine construction. We don't want to stop the progress, but we want to progress in a way that allows marine life to thrive, using nature-based solutions and ecological engineering. To achieve this, we must deploy innovation from the emerging Blue tech and Climate tech arena. This calls for intensive capital investment. Bridges Israel is a natural partner for ECOncrete, as an impact investment fund, to help increase our positive impact on oceans, coastlines, and coastal communities."
About ECOncrete
ECOncrete® offers innovative, robust, and environmentally sensitive concrete solutions, designed to encourage development of rich and diverse marine life as an integral part of urban and coastal marine infrastructure such as seawalls, breakwaters, bridge foundations and urban waterfronts. The proprietary technology is based on three core elements: bio-enhancing concrete compositions, complex surface textures, and science-based designs, which work in synergy to decrease the ecological footprint of concrete infrastructure while enhancing their strength and durability.
ECOncrete's vision is to change the way coastal construction industry operates by providing concrete technologies to create high-performance, resilient structures teeming with life. The company leads the world in high performance concrete products that harness natural processes for the benefit of the environment on one hand, and for the benefit of the structure on the other, reducing the ecological footprint of ports and urban waterfronts.
ECOncrete® is an award-winning company, selected as one of TIME Magazine's 100 best inventions in 2019, honoured by Fast Company in 2019 as one of the world's most innovative companies, received the distinguished SOLAR IMPULSE label for profitable solutions to protect the environment, and noted by Forbes as #13 of top 50 women-led start-ups pushing the frontiers of innovation. The company has won a few worldwide design challenges such as: HeroX Island of Happiness UN Sustainable Development Solutions Network Coastal Design Competition, and winner of Biomimicry Global Design Challenge.
Co-Founder and CTO, Dr. Ido Sella was selected as one of Israel's most promising individuals under 40. Co-founder and CEO Dr. Shimrit Perkol-Finkel has been lauded with numerous honours, most notably Marie Curie Fellow, WE Empower UN SDG Challenge (a business competition for women entrepreneurs who are advancing the UN Sustainable Development Goals); winner of the prestigious EU Women Innovators Award and # 22 of Fast Company's Most Creative Business People.
About Bridges Israel
Bridges Israel is an impact investment fund which invests in Israeli companies in order to generate competitive financial returns alongside significant measurable social and environmental impact. Founded in 2018 and managed by Sandrine Montsma, Gal Hayut and Ran Grodecki, Bridges Israel is an independent affiliate of Bridges Fund Management (BFM), one of the world's leading sustainable and impact investors. ECOncrete is the fund's 8th investment.