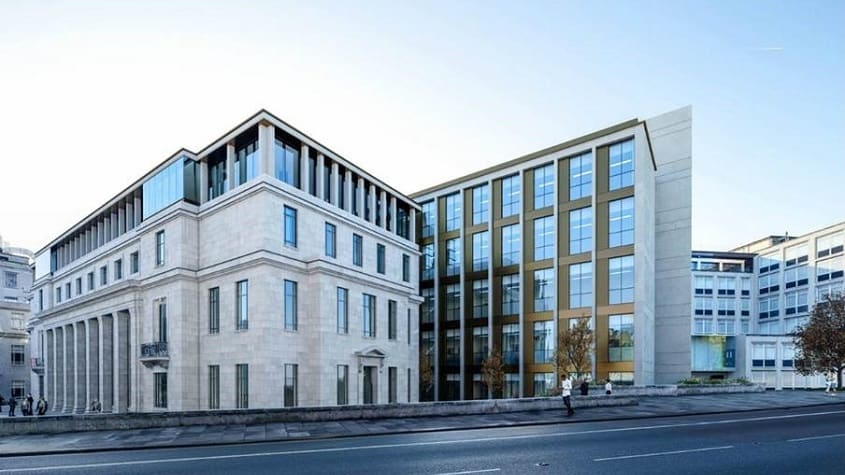 The building and research centre are named after Sir William Henry Bragg, a former professor of physics at Leeds who won the 1915 Nobel Prize in Physics with his son, Sir William Lawrence Bragg, for the development of X-ray crystallography.
Their work revolutionised science, by allowing researchers to examine the atomic structure of materials in detail for the first time.
Their achievements epitomise the ambition of the new Bragg Centre for Materials Research: to provide an outstanding environment for scientists and engineers to carry out world-leading research with global impact and provide a platform for both original research and in supporting the long-term needs of industry. In doing so it will make an invaluable contribution to the Government's Industrial Strategy.
The building will support the long-term development and integration of engineering and physical sciences, bringing complimentary research areas currently dispersed across the university campus to a single location. The creation of new, shared, future-proofed laboratories and facilities will remove physical boundaries between key disciplines and enable new ways of working and interdisciplinary thinking, to deliver 21st century science and engineering and address global challenges.
As part of a wider investment in the University's estate, the £96 million project is the largest single investment the University has ever made. It comprises a sympathetic refurbishment of the existing Grade 2 listed Old Mining Building, with an additional roof top extension, whilst the remaining site will be a new build, providing a total gross floor area of more than 16,000 m2 over seven storeys. The new-build element will link directly to the university's existing engineering and chemistry facilities The scheme received planning permission in September 2017.
In a team led by Arcadis, the Sir William Henry Bragg Building has been designed by architecture practice ADP. Project Management is provided by Arcadis, Cost Management is provided by Gardiner & Theobald, Civil and Structural Engineering by Curtins and Arup are the Building Services Engineer.
Construction work is due to commence in spring 2018, and is due to complete and be operational in summer 2020 and expects to be awarded a BREEAM 'Excellent' rating.
Dennis Hopper, Director of Facilities Management at the University of Leeds:
'This is a technically complex building and is a flagship in our ongoing commitment to enhance interdisciplinary research and student education. We're pleased to be working with experienced contractors who we are confident will deliver the whole project to the highest standards possible'
Jason Pink, Construction Director – BAM Construction:
'We are delighted to have won this complex and important project for the University of Leeds. We are currently working through the detailed design with the University and are looking forward to working collaboratively with the University to deliver this fantastic facility during the Summer of 2020.'