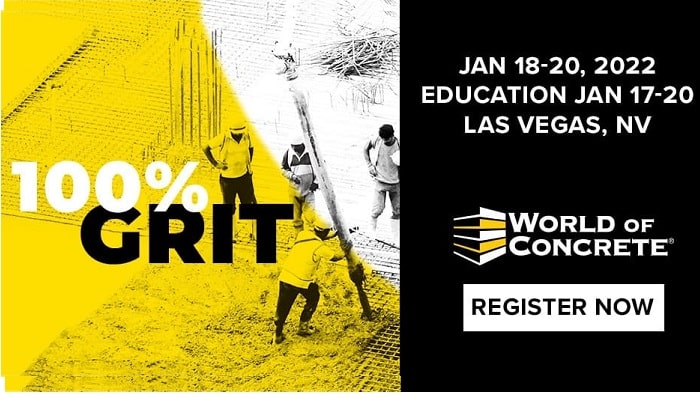 To ensure the health and safety of everyone involved in the World of Concrete 2022, we are following all state and local regulations and guidance, as well as the guidance from Informa AllSecure.
Nevada currently has a mandate in place that masks must be worn in all public places, regardless of vaccination status. The rule applies indoors only, and includes all casinos, meeting spaces & convention centers, and restaurants/bars in Las Vegas and throughout Nevada. We will continue to update you should this information change between now and the show.
You must register online prior to WOC 2022, as there will be no onsite registration.
YOU WILL NOT RECEIVE A BADGE IN THE MAIL SO PLEASE BRING YOUR EMAILED CONFIRMATION LETTER WITH YOU TO THE SHOW TO PRINT YOUR BADGE.
REGISTER NOW FOR WOC 2022
WORLD OF CONCRETE 2022 / JANUARY 18-20; EDUCATION 17-20
When the world stopped, you kept going. Adapting. Giving a master class in resilience and being an essential worker. Now, celebrate how far you've come and discover the innovation helping our community evolve, endure, and thrive at WOC 2022. Part knowledge, part equipment, part connections—World of Concrete is 100% of what you need to keep grinding it out through disruptions to the supply chain, safety and beyond. Get your hands on advanced technology and machinery, access the newest training and techniques in concrete and masonry, and build momentum for another unstoppable year.
EXHIBITS:
Original equipment manufacturers from around the world and exclusive U.S. distributors of equipment, tools, products and services for the commercial construction, concrete and masonry industries. WOC attracts approximately 1,500 exhibiting companies and occupies more than 700,000 square feet of indoor and outdoor exhibit space.
WHO ATTENDS WOC?
More than 60,000 industry professionals from all around the world, representing all segments of the construction industry: Commercial Contractors, Concrete Contractors, Concrete Pumpers, Construction Managers, Dealers/Distributors, Decorative Concrete Contractors, Designers and Specifiers, General Contractors, Block/Segmental Unit Producers Masonry Contractors, Architects, Engineers, Block Producers, Ready Mix Producers, Rental Equipment Centers, Repair Contractors, Residential Contractors, Specialty Concrete Contractors, Precast, Pipe and Block Producers, Precast/Prestressed Producers, and more.
Connect with the entire commercial concrete and masonry community at World of Concrete. The industry's first and largest annual event returns to the full-scale experience in January 2022, bringing you even more opportunities to showcase your products, generate high-value leads and increase your sales.
In preparation for the World of Concrete, we want to ensure your successful participation and that you have everything you need. In light of recent shipping and supply chain delays, please make sure all booth displays, equipment and staff are available well ahead of time as WOC will not be able to cancel, roll funds to future events or refund orders due to delays in equipment, product or booth materials. Please review the World of Concrete Terms and Conditions as no considerations will be made for the 2022 event.