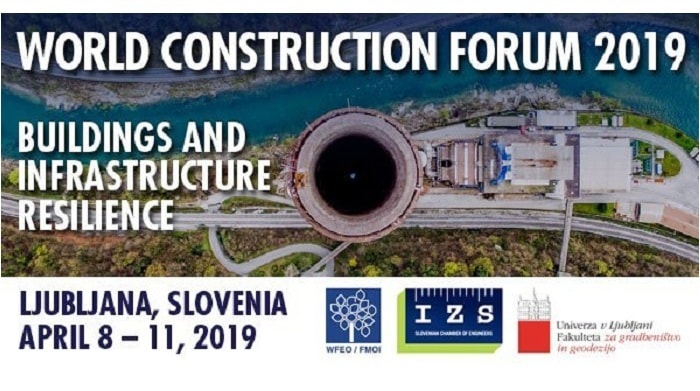 we would like to invite you to World Construction Forum 2019, which will be hosted by Ljubljana from 8th to 11th April. Forum will have a title "Buildings and Infrastructure Resilience". You can find all the information about programme of WCF 2019, keynote speakers, venue and registration prices on our website – https://www.wcf2019.org.
REGISTRATION IN PROGRESS – SPECIAL OFFER
The registration to the forum and to the WFEO meeting is fully in progress. We have prepaired a special offer:
A national delegation of at least three members pays only two forum attendance fees.
That means that the leader of the delegation has free registration.
Please register on-line: https://cankarjevdom.eventsair.com/2019-world-construct-forum/wcf-2019-registration-site/Site/Register
On-line registration enables you to register for the forum, the WFEO meeting, the social programme (accompanying events: technical visit, gala dinner), accommodation and sightseeing (trips).
More information on hotel accommodation, gala dinner, technical visit and sightseeing: https://www.wcf2019.org/registration/
FOLLOW US ON FACEBOOK AND LINKEDIN
Up-to date information about organisation of WCF 2019 and other interesting information about Slovenia and Ljubljana can be found on Facebook and LinkedIn.
We are kindly inviting you to join us and LIKE us at the Facebook page: https://www.facebook.com/WCFLJ2019/
And follow as on LinkedIn: https://www.linkedin.com/company/inzenirska-zbornica-slovenije/ 
ORGANIZERS & INFORMATION
Organizers:
Slovenian Chamber of Engineers
Faculty of Civil Engineering and Geodesy, University of Ljubljana
World Federation of Engineering Organizations
Information for speakers/authors:
Faculty of Civil Engineering and Geodesy, University of Ljubljana, secretariat@wcf2019.org
Information for WFEO Delegates:
Slovenian Chamber of Engineers, Ms Polona Okretic, E-mail: polona.okretic@izs.si , Phone: +386-1-547-33-17
Information on registration and accommodation:
Cankarjev dom, Cultural and Congress Centre, E-mail: registration@cd-cc.si , Phone: +386 1 241 7136, Fax: +386 1 241 7296
About forum:
https://www.wcf2019.org/