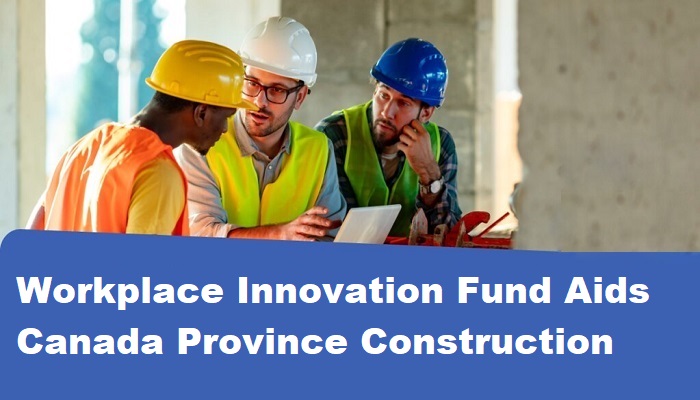 Employers and workers in the construction industry in Canada will get more help when the province starts the Workplace Innovation Fund, a programme that will focus on increasing the number of workers and including everyone, as well as finding new ways to boost productivity and keep workers.
Selina Robinson, the Minister of Post-Secondary Education and Future Skills, Canadian Government stated that the primary objective of the Workplace Innovation Fund is to create sector-wide alternatives. These solutions aim at improving construction productivity and making sure the workforce is well-prepared for the challenges of the future. To address the shortage of housing, it is crucial to provide support to the construction sector. One of the primary challenges they are facing right now is the dearth of a skilled labour force. The intention of this fund is to tackle numerous workforce issues by way of developing technologies that can enhance productivity and facilitating the recruitment and retention of skilled individuals who possess the necessary qualifications for construction, especially in light of emerging technologies.
An element of the StrongerBC: Future Ready Action Plan,which happens to be the Workplace Innovation Fund, aims to provide funding for innovative projects. These projects are designed to address the existing labour shortage, enhance the readiness of employers and workers for the evolving economy, and promote the attraction, hiring, and retention of a workforce that's diverse.
The Workplace Innovation Fund aims to deal with five key areas in the Canadian construction industry where the government can assist in workforce growth.
Assisting the industry in adopting new technologies and enhancing productivity.
Improving workplace culture as well as human resource practices to attract and retain workers, such as those from underrepresented or diverse backgrounds.
Promoting and supporting creative training methods
Increasing the prestige and awareness of the construction sector as a profession.
Simplifying career pathways for people who happen to be new to the industry.
Supporting the Homes for People plan involves encouraging innovation within the construction sector. It includes adopting cutting-edge technologies like digital processes for building permits, using mass timber to decrease emissions of carbon dioxide, and implementing prefabrication approaches to reduce the duration of construction.
The need to rapidly expand the housing supply is one of the most significant challenges currently faced by their province, stated Ravi Kahlon, the Minister of Housing, Canada. The purpose of this fund is to support their continuing efforts to construct new homes at an accelerated rate. By addressing labour shortages, enhancing productivity, and introducing low-emission technologies, they hope to help all stakeholders involved.
They have already begun accepting initial concept proposals on October 11, 2023. The due date for submitting proposals is November 10, 2023, at 11:59 p.m. Pacific Time. There are funds available for projects with financing of up to $5 million.
Eligible applicants for this opportunity include, but are not limited to, the following:
-Businesses and for-profit organisations, including those owned by Indigenous and First-Nation individuals.
– Not-for-profit organisations and social enterprise operations.
– Labour organizations.
– Local governments.
– Consortia or alliances.
The Workplace Innovation Fund promotes collaboration among applicants from various sectors, creators, and post-secondary institutions.
The construction industry is facing a significant challenge in recruiting skilled workers, stated the Canadian Minister of Jobs, Economic Development, and Innovation, Brenda Bailey. By increasing awareness about opportunities in the construction industry, employers may enhance their availability of skilled workers and generate well-paying jobs for the people of British Columbia.
On May 2, 2023, the StrongerBC: Future-Ready Action Plan was unveiled. This comprehensive plan seeks to enhance the affordability, accessibility, and relevance of education as well as training in British Columbia. Its primary goal is to equip the people of British Columbia with the necessary skills and expertise to thrive in both present and potential job markets.
Shelley Grey, CEO of SkilledTradesBC, emphasised the importance of developing a strong workforce for future economic growth in the province. She expressed delight about the investment that will be aimed at creating a strong and broad pool of skilled tradespeople.
This investment is expected to drive both innovation and progress in the building sector. She added that they, along with their partners, are dedicated to providing support to a greater number of British Columbians, helping them discover the vast opportunities skilled trade professions have to offer.
The Budget 2023 allocates $480 million over a span of 3 years to provide support for the StrongerBC: Future Ready Action Plan. The objective is to address challenges that hinder individuals from pursuing post-secondary education, thereby enabling more people to receive training for careers that are in high demand. In addition, this investment will also facilitate employers in finding the skilled workforce they require.