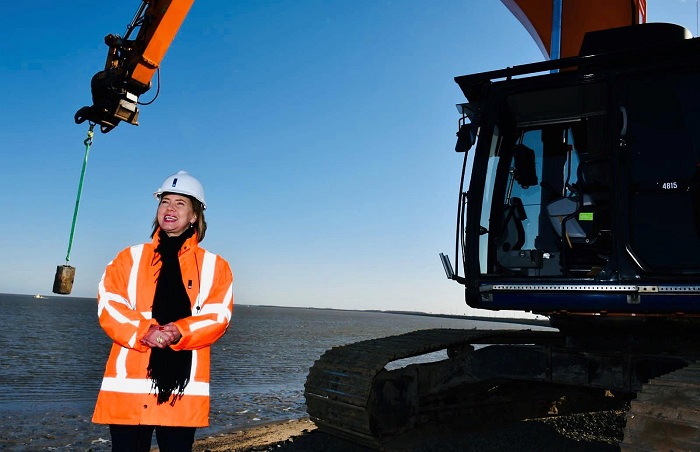 Levvel, a consortium of Van Oord Aberdeen Infrastructure Partners, BAM PPP PGGM Infrastructure Coöperatie and RebelValley, has commenced work on €550m (£473m) project to reinforce the Afsluitdijk flood defence project in the Netherlands.
The work involves reinforcing the dyke on the Frisian side of the Afsluitdijk, a 32km dam, which was built to protect large parts of the Netherlands against flooding from the sea and the IJsselmeer.
Dutch Infrastructure and Water Management Minister Cora van Nieuwenhuizen said: "For 87 years now, this iconic structure has protected a large part of our country from water. With this large-scale renovation, the Afsluitdijk will be ready for the future in four years."
The consortium received the design, build and finance contract in 2018 from Rijkswaterstaat, which is a part of the Dutch Ministry of Infrastructure and the Environment.
Rijkswaterstaat is responsible for the design, construction, management and maintenance of the main infrastructure facilities in the Netherlands.
Under the terms of the contract, the consortium is also responsible for 25 years' maintenance of the strengthened Afsluitdijk, with work planned to be completed by the end of 2022.
Work at Afsluitdijk involves installation of 75,000 newly designed sustainable concrete blocks with a special design, which requires less concrete compared to previously used design.
The concrete blocks are planned to be placed on top of the basalt blocks, which were used to construct the causeway almost 90 years ago.
Additionally, new drainage locks and two large pumping stations are planned to be installed at the drainage complex located at Den Oever at the southwest end.
The work will ensure that sufficient water can be drained from the IJsselmeer into the Wadden Sea.
Levvel's tender was assessed by Rijkswaterstaat on the basis of Economically Most Advantageous Tender (EMVI) criteria as 'best value for money'.
Van Oord Aberdeen Infrastructure Partners and BAM PPP PGGM Infrastructure Coöperatie own 46% stake each in Levvel, while the remaining 8% stake is held by RebelValley.