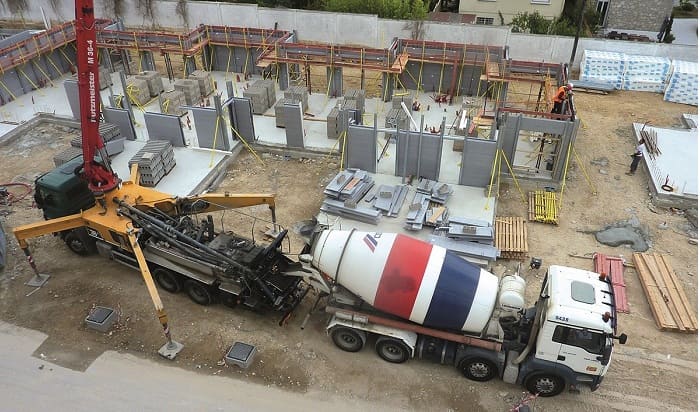 For years, Insulated Concrete Forms (ICFs) have been playing on the margins of the UK's construction sector. That is all about to change, according to Leslie Dawson, managing director of Scunthorpe-based manufacturer UNiBLOCK.
Developed back in the 1930s, Insulated Concrete Forms has risen in popularity over the years due to its straightforward process, rapid construction and impressive energy performance. Indeed, nowadays a high proportion of houses and municipal buildings in the USA and across mainland Europe are built using this method.
Termed as a 'modern method of construction' (MMC), ICF is still relatively unknown in the UK, with the exception being the burgeoning self-build market. However, we believe that economic changes, housing needs and the long-term skills shortage have created market conditions that will see a significant increase in ICF over the next ten years in the UK.
Insulated Concrete Forms, UNiBLOCK,The benefits of UNiBLOCK
The easy to assemble characteristics of the UNiBLOCK system with its pre-cut offering delivers the construction of structural walls in a fast and safe process. Our experience shows that while the average UK housing structure takes around two weeks to build, our system takes just three days on average per floor.
Buildings constructed using UNiBLOCK enjoy lower U-values in the range of 0.16 to 0.22, delivering a U-value of just 0.19 for the standard block. UNiBLOCK panels comprise outer and inner skins of various sizes, made from Expanded Polystyrene (EPS) with a hollow core. An embedded wire mesh with a patented folding mechanism provides stability during the construction process and concrete pour.
Given the UK's chronic shortage of skills, which may be exacerbated by Brexit, any building system that can be used by semi-skilled labour has to be welcomed. The UK has a long-term housing shortage issue which could be partly addressed by using Insulated Concrete Forms as the preferred method of construction. And given Boris Johnson's recent announcement of £2.7bn to build new hospitals, this provides another opportunity for UNiBLOCK to prove its credibility.
Using UNIBLOCK Insulated Concrete Forms panels
Utilising 100% recyclable EPS as the key ingredient for panels, UNiBLOCK comes in standard size of 2.4m by 0.6m. Utilising the pre-cut option, blocks will be fully prepped and site-ready prior to shipping to site.
Unlike many other Insulated Concrete Forms suppliers, UNiBLOCK does not use plastic ties – opting for steel alternatives to provide additional rigidity. Thanks to this innovation, walls of up to 10m in length can be constructed without the use of supporting wall structures – adding to the speed and low cost of construction.
With an overall wall width ranging from 300mm to 375mm and concrete core that can range from 150mm to 350mm, UNiBLOCK provides architects and specifiers with maximum choice – giving them even greater scope to surpass U-value and soundproofing targets for the building. Weighing between just 15kg to 18kg, UNiBLOCK panels are easy to place and manhandle. This feature reduces the requirement for costly lifting equipment on-site.
Going offsite
The rise in volumetric and modular construction is another reason to consider UNiBLOCK as part of your MMC strategy. Indeed, UNiBLOCK's newly commissioned factory in Scunthorpe has been established to meet the needs of the UK construction industry. That means we can supply both single builds and major housing or public sector projects with our pre-cut option. Operating three separate divisions; manufacturing, pre-cutting and service, means we offer a full turnkey service delivered to site on a just-in-time basis when required.
Moreover, we estimate that providing UNiBLOCK on-site in its pre-cut form can produce savings of between 20-30% when compared to other construction methods.
The future of UNiBLOCK is bright
Seen as a niche housebuilding product in the past, we believe that the wider economic conditions in the UK have created a huge opportunity for Insulated Concrete Forms. While the impact on housebuilders is obvious, we think that developers of hospitals, schools, universities, hotels and sheltered accommodation should be seriously considering UNiBLOCK's pre-cut option.
Given its fire-retardant credentials and its ability to create multi-storey buildings, UNiBLOCK's system is now a serious contender in both the public and private sector building markets. And given the fact that we've just started manufacturing product at our modern facility in Scunthorpe, contractors can be sure of a smooth supply of material.
While firm data is difficult to find, it is generally agreed that ICF has found it difficult to gain traction in the UK – while countries such as Germany, Norway, Holland and the USA have harnessed the power of the solution for decades.
Granted, most commentators concur with the view that the UK has seen exponential growth in Insulated Concrete Forms adoption over the last three years. However, we think this is just the tip of the iceberg, given the potential presented by the pent-up demand for quality housing and our country's need for innovation within both public and private sector construction.