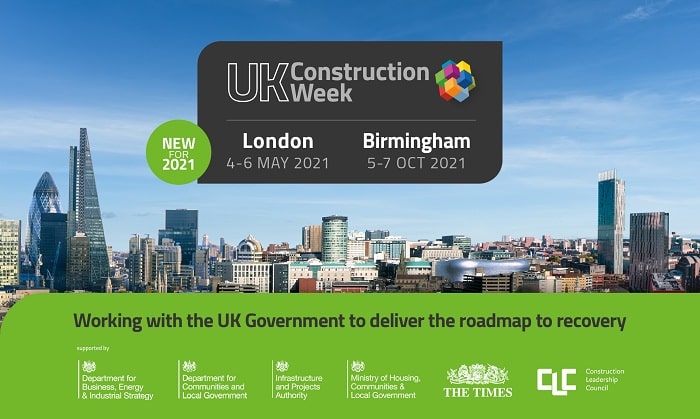 UK Construction Week to stage London and Birmingham editions in 2021 in 18-month plan to capitalise on Government construction commitments
The UK is entering a period of unparalleled government investment in homes and infrastructure. With £40bn committed to infrastructure and housing in recent weeks, it is clear this government sees the construction industry as a key driver to economic recovery.
As the leading event platform for the construction industry, UK Construction Week (UKCW) have been working with key stakeholders to create an 18 month UKCW road to recovery that capitalises on the government commitments made towards the construction industry through major infrastructure investment and the new green homes grants.
The UKCW road to recovery will feature a new UK Construction Week set to take place in May in London. Coming at a time of unprecedented investment in the construction industry, this event will be backed by government as we look to facilitate an economic recovery driven by the construction industry.
UK Construction Week London (4th – 6th May 2021) will connect the whole supply chain in an event designed to oil the wheels of construction commerce. With Government support and education on how to tap into major investment opportunities in Housing and Infrastructure, UKCW London will be the must attend construction event next Spring.
Co-located with Grand Designs Live, the UK's leading self-build and custom build home show, UKCW London will provide a way for sustainable construction products to capitalise on the consumer demand created by the £3bn Green Homes Grant.
UKCW London will benefit from 4 established Construction Summits staged at the same time, Quality, Wellbeing, Diversity and Marketing, as well as a Lean in Construction Training Workshop.
UK Construction Week Birmingham (5th – 7th October 2021) will return with a bang in 2021 as we deliver the UK's largest built environment event at the NEC Birmingham. Along with four conferences, 15 CPD and Workshop hubs and three major award presentations, UK Construction Week Birmingham 2021 will mark a celebratory focal point as construction can share learnings from the recovery and look to a bright future.
The UKCW roadmap to recovery will also be partnered by The Times, with editorial support for the event.