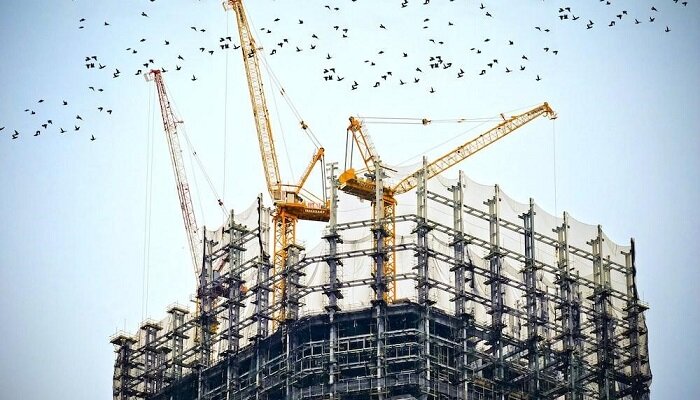 Transporting and handling building and construction materials demands substantial planning and logistics expertise. If not addressed properly, shipping such heavy and large loads can incur extra charges, not to mention stress and pain.
Without a doubt, the transportation of building and construction materials is far more complicated than a basic truckload from one city to another or an LTL shipment. This kind of shipping has its peculiarities one must be aware of before embarking on this journey. Despite the route and type of rolling stock, when shipping construction materials internationally, it is crucial to comply with the transportation rules, as overseas transportation of many categories of construction materials, especially drying oils, enamels, and paints, is designated as dangerous freight.
It is also mandatory that the transport is one hundred percent in line with the very dimensions of the cargo, as well as the technical conditions imposed by the manufacturer are followed scrupulously. Thus, if you run a construction company, you must start at the beginning and ensure you dispose of all the needed information before sending your building materials overseas. Here, you can find valuable insights into construction material logistics and international transportation modes.
Construction freight
Construction freight usually consists of large and heavy loads that require special attention when sent overseas. Some of the most common types of materials, including machines and tools, that are shipped overseas include:
Roadwork equipment
Work tool attachments
Landscaping and forest equipment
Power generation
Trench shoring equipment
Utility equipment
Screening and crushing equipment
Apart from the numerous regulations on this matter, there are certain aspects each and every runner of such a business should take into account for hassle-free and speedy transportation.
Modes of transportation
Everything from building insulation and lumber to bags of cement and bricks could be transported by air, rail, or sea. This, of course, will depend on the target location, type of material, and preferred type of transportation, after all. For example, if you want your freight to be delivered in the fastest possible way, you'll opt for an air carrier. Air transportation is the most recommended and valuable when shipping bulky and heavy cargo. This type of transportation is also ideal for urgent materials like radiopharmaceuticals, high-value commodities, and technological products. According to the International Air Transport Association (IATA), air cargo has had momentum, particularly during the Covid-19 pandemic, when it was the preferred method for many companies and organisations out there. And while cargo and passengers are usually carried in the same aircraft, an airline will address each situation differently and apply the correct safety measures. So, if you're wondering if this freight transportation is safe for the people on the plane, learn that, yes, it is.
However, when sending your materials overseas by air, ensure you benefit from high-quality air cargo products, often referred to as ULDs (Unit Load Devices). These ULDs must be designed to fit your products and the very challenges you may face when shipping them. Fortunately, there're modern, carefully-developed containers that can carry not only your most precious goods but also all your worries away. Companies like VRR, for example, provide a vast range of ULDs, customised to clients' very needs, of various dimensions and shapes so that you can enjoy safe and fast freight transportation.
Shipping considerations
Construction materials, including those used for the structure of homes and natural stone slabs, must be secured firmly, all the more so since they tend to be large and heavy. These materials need special transportation arrangements and a lot of care, whether shipped by rail, air, or sea. Some of the most important aspects to have in mind when dealing with bulky material transportation include the following:
Dimensions of the shipment
If your products are oversized, they're likely to face cube correction, which, in many cases, will modify the shipping rates. It's essential to understand the dimensions of your materials and how this aspect will affect your transportation mode and shipping costs. Although some ships handle huge, unimaginable volumes of freight, learn that even these majestic ships have a limit. Moreover, there are some regulations regarding the cargo dimension suitable for the port entry in the state you're going to send your materials. Inform yourself also about the equipment needed to pick up and deliver your building materials – this is your concern, too.
Proper documentation and custom check
First and foremost, each state has its unique set of regulations and standards that one must comply with when shipping bulky freight to and from their ports. And while it's understandable that you're unlikely to master this matter, you should still take your research very seriously. Whether you're an exporter or importer, you need to familiarise yourself with all the applicable laws in this sense. Also, there're special documents you must dispose of when loading your cargo onto the ship, which, if not at hand, can generate lots of problems. In some cases, you might be asked for the original title of the equipment, all the related insurance papers, or the bill of sale, so be sure you're up to date with all these demands before making any move.
Transportation options
After conducting proper research, decide on a transportation option through which you'll want to transport your goods. This might depend on the equipment's dimension and shipping distance, so the previously mentioned information will help to determine what's to be the perfect transportation option. The most popular solutions are:
Container
If the equipment you send overseas can be disassembled, you may want to consider a container. Anyway, if you have heavy equipment that can't be disassembled but is still suitable for an enclosed container, this can be a go-to method.
Flat-rack
This option is ideal, especially for equipment that must first be loaded onto a rack, so it can't be driven on or off the ship.
Roll-on/Roll-off (RO-RO)
If you're about to transport bulky machinery that is self-propelled, thus it can be driven on and off the ship, be sure you opt for an RO-RO option that is perfect for machinery or equipment with either treads or wheels.
Transporting heavy goods like construction materials may sound daunting, but it's not really that complicated, as today's shipping possibilities vary.