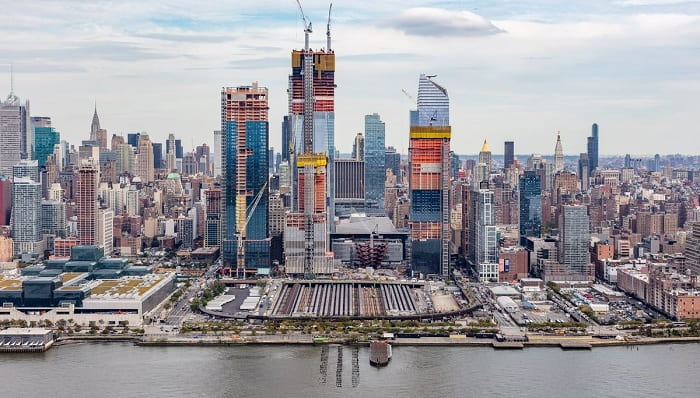 Known as having a state-of-the-art infrastructure and a booming construction industry, new developments are occurring at a break-neck pace in New York. There is so much happening at the individual level and the entire stretch of land can be seen as taking a new form, completely reimagined and recreated. It is evident that these megaprojects will not only bring low priced apartments but also the hype, and cultural attractions.
The huge projects have been underway reflecting a rapid growth of the construction industry. Let us take you on a journey to some of the ongoing projects currently taking shape across the metropolis.
1. Hudson Yard
Described as the largest development in the history of the U.S. since Rockefeller Center, Hudson Yards is a $20 billion megaproject as per the estimating companies. This project is on the West side of Manhattan and the site will include office and residential skyscrapers, commercial space, a collection of restaurants carefully curated by Chef Thomas Keller, schools, hospitals, parks, public art, and cultural venues.
The development will include about 4,000 residencies and an Equinox Hotel® having more than 200 rooms while offering various amenities for guests, employees, and residents equally. And the best thing about this development project is that it will create more than 23,000 jobs in the industry of construction. This project is the fulfillment of a remarkable collaboration of talented visionaries working in partnership with the transport and development authorities and some iconic retail brands.
2. Manhattan West 
This project consists of 2 million sq. ft. office towers, 225,000 sq. ft. retail, and a residential tower with 844 units. It is a vital link between the Penn Station complex, the Midtown business district, and the North of Chelsea. The master plan is designed by SOM consisting of two acres of open public spaces and is bound by Ninth and Tenth avenue.
The intricately assembled steel core offers a glimpse of the ground floor's height and size and is half erected. These towers will stand as new landmarks and provide unique areas while contributing to the pedestrian streetscape. This platform covers active rail tracks that will connect Pen station to New Jersey and Upstate New York.
SOM collaborated with SLCE architects to cover the residential component, while James Corner is the landscape architect.
3. One Vanderbilt 
This exquisite office tower joins the Chrysler Building and Empire State Building hence defining the renowned skyline of the city. It will skillfully meet the market demands of Midtown East and will perfectly fit into the network of public transport. The base of this building is going to greet a large number of commuters daily and become a doorstep to the city. While blending the public realm and private enterprise it offers connections to the terminal, the New Eastside, and an active urban base.
2021 is known to be its slated completion date. Formally, the building has an elegant shape with tapering and interlocking volumes making a spiral upwards. This project transforms the experience of Grand Central District as it offers a magnificent and varied effect. Every element in the tower is hand textured and polished with all the pieces having a unique position and shape.
4. Second Avenue Subway Construction Project
This construction project is a subway line that is on the East side of Manhattan. The idea proposed will be a full line stretching to 8.5 miles with long stations which would be 16 in number. While serving 560,000 daily commuters, this project will cost more than $17 billion.
5. 40 West 137th Street, Manhattan
The city health department has planned a public health lab. The Harlem Hospital Center has a current lab at 455 First Avenue in Kips Bay and now the officials are planning to construct it at a new location. It will cover an area of about 188,000 sq. ft and will consist of 10 stories. Moreover, the department will have more flexibility and the employees will work more easily in the time of crisis.