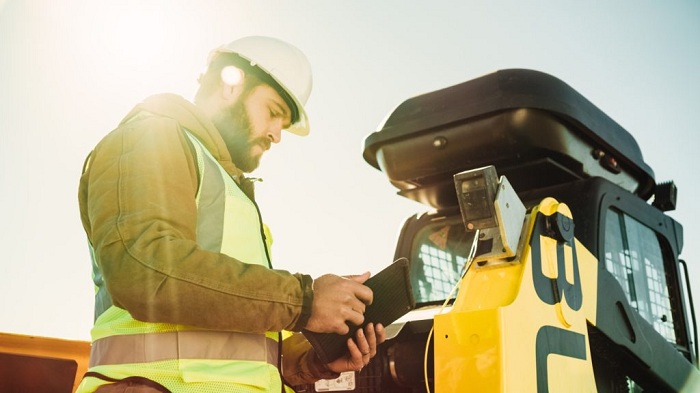 The International Union of Operating Engineers (IUOE), representing over 400,000 members across the United States and Canada who work as heavy equipment operators, mechanics, surveyors, welders, drivers, and stationary engineers, and Built Robotics, provider of autonomous robotic solutions for construction, have entered into a multi-year strategic partnership agreement.
The partnership will establish a training program to prepare IUOE members to oversee and manage robotic equipment, as well as work alongside autonomously operating vehicles.
As part of the agreement, Built Robotics will provide its guidance systems to the IUOE's state-of-the-art International Training & Education Center (ITEC) near Houston, Texas. The ITEC offers IUOE members a 265-acre campus, a full line-up of heavy equipment from leading manufacturers, mechanics shops, vehicle simulators, and more. The Built Robotics guidance systems will be the latest cutting-edge technology to be added to the curriculum, and IUOE members will be trained to install, operate, and repair robots in realistic job site conditions.
"This is a first-of-its-kind partnership between the IUOE and a technology company, and it will enable our members access to programs and training to keep them at the forefront of skilled craft work," said James T. Callahan, General President of the IUOE. "We are proud to bring Built Robotics technology to the ITEC and equip our members with the skills they need to be successful in the 21st century."
In addition to the ITEC training program, the IUOE and Built Robotics are exhibiting Built's autonomous equipment at the CONEXPO/CON-AGG 2020 conference this week in Las Vegas, Nevada. Conference attendees can visit Built's booth to remote control an autonomous excavator digging at the ITEC facility thousands of miles away.
"We are honored to partner with the IUOE, one of the largest and most historic labor organizations in North America," said Noah Ready-Campbell, CEO of Built Robotics. "At the end of the day, robots are just tools in the hands of skilled operators, and we believe that the best-trained workers equipped with our technology will fundamentally change the future of construction. Together we can build and maintain the critical infrastructure our country needs," he continued.
About the IUOE
The International Union of Operating Engineers (IUOE) is a progressive, diversified trade union that primarily represents hoisting and portable engineers, who work in the construction industry as heavy equipment operators, mechanics, surveyors, welders and drivers, and stationary engineers, who maintain, operate and repair building and industrial complexes and service industries. Founded in 1896, the IUOE currently represents approximately 402,000 members in 109 Local Unions throughout the United States and Canada. In addition to the ITEC, over 100 state-of-the-art IUOE Local Union training and apprenticeship programs ensure that IUOE members are the safest, most productive, and most highly skilled craft workers.
About Built Robotics
Built Robotics' mission is to build the robots that build the world. By upgrading off-the-shelf heavy equipment with AI guidance systems, Built's technology enables machines to operate fully autonomously. Built's robots are deployed across the $1 trillion earthmoving industry, and they're being used today to help build remote infrastructure such as wind farms, solar farms, and oil & gas pipelines.