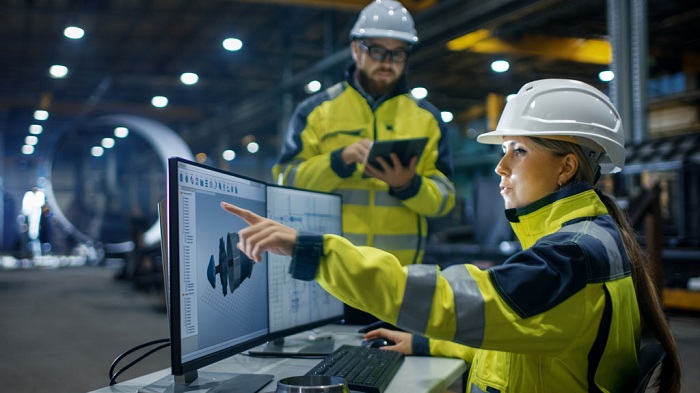 The convergence of two irresistible forces has prompted an accelerated adoption of innovative digital technology in the construction sector. Moving forward, that pace of change is destined to grow even more.
"Eighty-eight per cent of respondents believe technology will either play a key role in the future of how we work in construction, or it will actually form the backbone of the onstruction industry, something we can't do without," notes a report by Procore Canada titled How We Build Now Canada. "Technology is clearly vital to the future of building."
It's no surprise to Daniel Meissner, the director of Virtual Design and Construction at EllisDon, who took the role in January 2020 and quickly found himself and his team working at home in March like so many others.
One of the biggest changes within construction companies is the expanded role of IT departments which are no longer there to fix connectivity and hardware issues.
"IT has really upped their game," he says and they are now responsible not just for the networks, servers and traditional services but also for researching and recommending software platforms, software rollouts, training, support and more. "We're scoping out tools, looking for what gives the best value and there are a lot of vendors out there," he says.
While other jurisdictions integrated BIM 20 years ago Canadian operations have been late adopters and there's more being done to further integrate those platforms into other software platforms.
Some of the change is being driven by necessity and COVID-19 has forced adjustments, but much of it is coming from the next generation entering the workforce and establishing themselves in middle and upper management.
"They're curious, they want to know what's next, how they can use it," he says. The shift is creating job opportunities within Canada's construction management companies for both existing staff and others whose qualifications would not have been considered a "fit" in the past for the industry.
Also playing a role in driving this evolution is the advent of 5G networks which offer exponentially more bandwidth at higher speeds to accommodate more digital applications running concurrently in real time. This in turn allows for more remote site monitoring without necessitating physical visits, saving time, money and, arguably, improving safety.
Still, there's clearly more to be done. The Procore survey also found "one-third (of respondents) are still using paper files, spreadsheets and email to manage their projects and workflows."
Meanwhile things are ramping up and creating training opportunities with the sector and jobs for those with skills not traditionally associated with construction.
Dr. Christopher Willis, professor and co-ordinator at the Angelo DelZotto School of Construction Management at George Brown College, says COVID-19 intensified other practices such as supply chain logistics and virtual meetings.
More than that, however, he says, it's also encouraged practices such as modular construction where the components are factory built in controlled conditions with less waste and then trucked to the site and lifted into position.
This in turn is triggering a ripple effect with employees and trades having to ramp up training to prepare for those changes.
"Collaboration and information sharing throughout the phases of a construction project have accelerated online," he says. "The impending arrival of the 5G network will help to remove the cost barrier of BIM as the cost of investing in IT infrastructure can be reduced by using Software as a Service (SaaS)."
Students in construction management programs are trained in the most popular project management software and eager to apply their skills once in the field.
Adding certifications and skills in other software programs is also critical to advanced career paths, says Dr. Willis, and colleges like George Brown are adjusting their offerings to cater to that demand.
"You don't have to go back to school and take time off work and lose income," he says. "We have micro certification programs where it takes less time. We're getting a lot of inquiries from people coming back to finish a degree or upgrade."
He says the pressure created by both technology uptake and the growing roles of software in construction design, management and execution is driving more focus on continuing education.
Canadian Construction Association president Mary Van Buren says things are changing and while some of Canada's largest construction companies are 100 years old they are focusing more on developing skills by investing in training for their people for the next 100 years.
"Drones, Artificial Intelligence, wearables are just some of the technologies making a real mark on this industry," she says. "And the growing focus on LEED and beyond LEED is also opening up avenues."
Dr. Eric Saczuk, who teaches Geomatics Engineering at the British Colombia Institute of Technology, says existing technologies like drones, which have been more recently adapted, are proving so valuable that instead of contracting outside, engineering firms are creating their own in house drone teams.
He says it's not just about mapping a site, measuring progress and monitoring materials, they can also be used by the marketing department.
While on-the-ground measurements are more precise for some tasks, others have a flexible plus-minus need so a ball park number will suffice. Construction firms have also realized that today's drone can carry a diverse payload of cameras, scanners, sensors which all bring back invaluable data.
Transport Canada requires drone pilots have a license and a flight plan, but companies are seeing value in helping their own people get certified or in hiring qualified pilots and training them in their own specific needs.
One area for drones emerging is Photogrammetry, which used images for surveying and mapping and then can create 3D renderings. Those 3D renderings can be used to simulate what a new structure might look like against the existing structure and landscape.