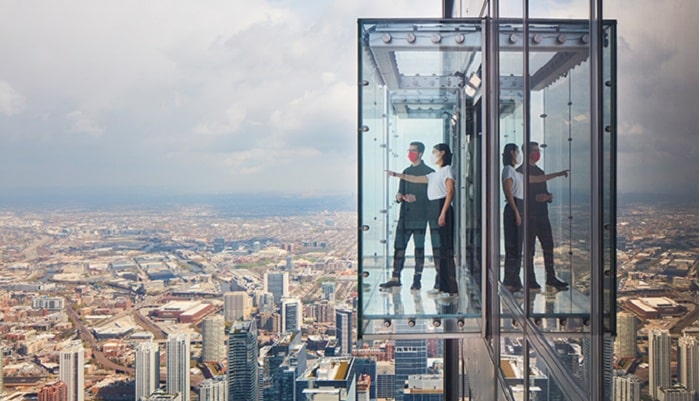 Chicago architect Skidmore, Owings & Merrill (SOM) has completed a redesign of the 110-storey Willis Tower that will simplify the building and expand the Skydeck viewing platform on the 103rd floor.
The Willis Tower – or the Sears Tower, as it was better known – was designed by SOM and engineer Fazlur Rahman Khan and completed in 1973.
It beat the World Trade Centre in New York to the title of tallest building in the world, until it was itself overtopped by Kuala Lumpur's Petronas Towers in 1998.
SOM worked with Thinc Design, and Chicago Scenic Studios on the redesign, which aims to return the building to the architect's original vision.
The tower contains an interactive exhibition about how architecture has shaped Chicago's history and identity, complete with bronze models of the city's most influential buildings.
Scott Duncan, SOM's design partner, said: "Willis Tower is synonymous with Chicago's skyline. Envisioned in our studios more than 50 years ago, its design continues to inspire us today. In creating the new Skydeck, we wanted to honour the structural clarity and simplicity of the tower's original design approach.
"We wanted to create a quiet backdrop for people to be fully immersed in the city's skyline and allow the view to speak for itself."
David Moore, senior vice president of EQ Office, the firm that manages the tower, said: "Skydeck has always been the best way for locals and visitors to see all of Chicago, and now we have dramatically expanded and elevated the experience beyond what anyone has seen before.
"The new experience celebrates hometown traditions and Chicago's storied history, with incredible views that you can't find anywhere else."
The Willis Tower is the third highest building in the US and the 23rd tallest in the world.