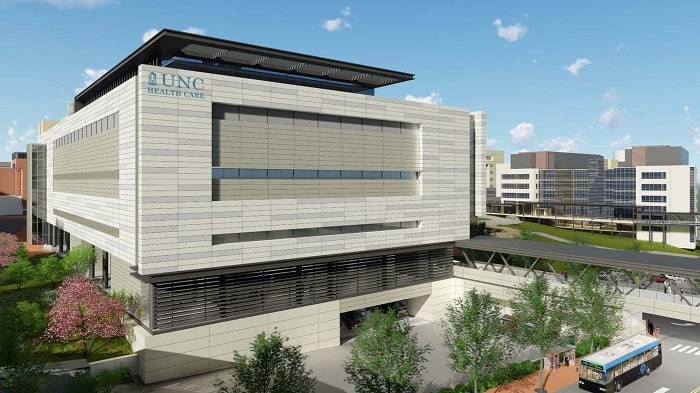 Skanska has signed an additional contract with University of North Carolina Hospitals to build a new surgical tower in Chapel Hill, North Carolina, USA. The contract is worth USD 207 M, about SEK 1.9 billion, which will be included in the US order bookings for the fourth quarter 2019.
The 31,100-square-meter, seven-story tower will house state-of-the-art surgical spaces, including 24 operating rooms, 56 pre and post-operating rooms, and 56 intensive care unit rooms for recovering patients, families and guests. The tower will tie into the existing facility on multiple levels, while improving the main patient entry and current hospital logistics with two new pedestrian bridges.
Construction began in October 2018, and completion is scheduled for August 2022.
Skanska is one of the leading construction and development companies in USA, specializing in building construction, civil infrastructure and developing commercial properties in select U.S. markets. Skanska USA had sales of SEK 67 billion and about 9,000 employees in its operations in 2018.
Skanska is a world leader in construction and project development on select markets in the Nordic region, Europe and USA. Driven by the Group's values, Skanska wants to contribute to a better society. Skanska provides innovative, sustainable solutions for both simple and complex assignments. Skanska has about 38,000 employees, and 2018 revenue totaled SEK 170 billion.