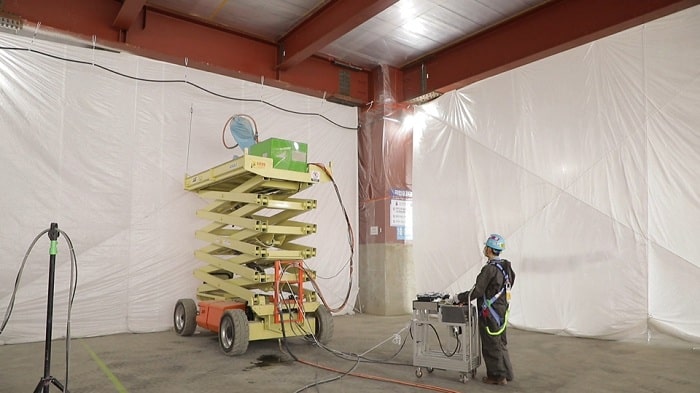 Samsung C&T announced on April 15 that it will develop a technology that can replace fire-resistant work, which is classified as a representative high-risk work at construction sites, with robots and apply it to sites for the first time in Korea.
Fire resistance coating is a must-have work that can withstand high heat by adding fireproof materials to the steel columns and beams of buildings.
It is classified as a representative high-risk work because workers can be exposed to toxic substances and there are many situations where they have to work at high-risk places.
The technology, developed by Samsung C&T on its own, applies robot arms to spray fire resistance materials on the upper part of the work table, and integrates raw material mixers and storage facilities on the lower part. In particular, the mobile platform is applied to make it easy to use in the field.
This technology will first be applied to construction sites of semiconductor factories composed of large steel columns. Above all, it is meaningful that field workers can work in a safe environment without being exposed to hazards such as harmful substances or high place work.
In addition, Samsung C&T is conducting research to allow robots to replace various high-risk tasks at construction sites. It is developing various robot technologies, including drilling robots that drill holes in reinforced concrete, and automatic welding robots that can automatically weld pipes while rotating 360 degrees, and is pushing to apply them to actual sites.
"Construction automation technology also has the advantage of enabling fast and effective work, but ultimately means more to protect workers' safety," a Samsung C&T official said. "We will take the lead in developing technologies that put workers' safety first."