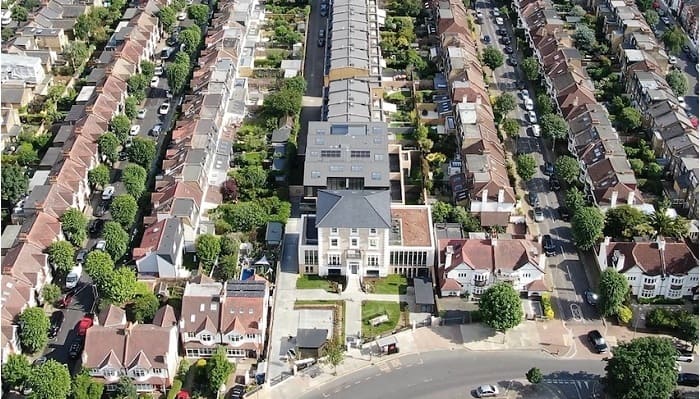 Audiology House, the landmark £8.1m residential conversion and extension project in South West London, has been officially completed by the Farringdon-based specialist contractor RED Construction.
Located in the sought-after conservation area of SW12, the 16,170 sq ft contract for Joseph Edmund included the delivery of 19 sophisticated new-build and conversion apartments, eight of which are set within the original Victorian villa setting. The other 11 luxury residential spaces form part of a dynamically converted factory space with an industrial aesthetic at the rear, linked by an attractive communal landscaped courtyard.
The Audiology House site at 45 Nightingale Lane was initially established in circa 1870 by family engineer George Jennings and was home to a hearing aid factory in the '30s and '40s.
A range of highly specialist work was required to redevelop Audiology House, including creating two front wings constructed from a steel frame, with precast brick and a Portland stone façade, which have been sympathetically merged with the existing mansion structure. Considered use of glass balustrades on the cantilevered terrace balconies, along with a blend of double-glazed traditional sash and roof glasswork, has maximised natural light throughout the apartments and communal spaces.
Original features have been retained by RED Construction wherever possible, including the distinctive roof trusses. Audiology House's history as a factory has been honoured with subtle industrial touches such as hand-made brick slips and storey height Velfac windows. Other premium touches include discreet pocket doors, underfloor heating systems, and signature finishes and joinery furniture. The site also features a sustainable living wall, designed and installed by Biotecture, fitted with native evergreen plants to aid biodiversity and enhance air quality.
The sensitive redevelopment of the historic building was led by RED Construction's recently-appointment Operations Director, David Owen MCIOB, who ensured the development vision came to life innovatively and safely while maintaining the building's original character.
Graham Sturge, Managing Director of RED Construction, commented: "We are particularly proud of the calibre of the Audiology house project and have enjoyed working with an exciting new developer on such a unique London site. The heritage of the building added great complexity to the works, but David and the team handled all challenges with ease. Audiology House now serves as another example of RED's capability with sensitive regeneration works, showing how a historic structure can be merged with a new design to create an amazing space."
A spokesperson at Joseph Edmund added: "Our vision for Audiology House has been successfully realised through the work of RED Construction. The unique regeneration project had some difficult and highly technical elements to consider from the outset, all of which were handled with confidence, agility and innovation by the RED team. Audiology House has already been received positively by the public with strong sales conversion, reflecting the brilliant vision and quality behind the scheme."
Since launching the Audiology House show flat apartment in January 2021, Joseph Edmund has confirmed the sale of seven of the apartments to date.
RED Construction's David Owen is also overseeing the £17m redevelopment of Townsend House in the heart of London's Victoria district for Hong Kong-based global developer, ITC Properties. Located at 5 Greycoat Place, the consented 35,500 sq ft, the six-storey project will offer retail space, four levels of workspace and proposed upper duplex apartments, set to be completed by Summer 2022.