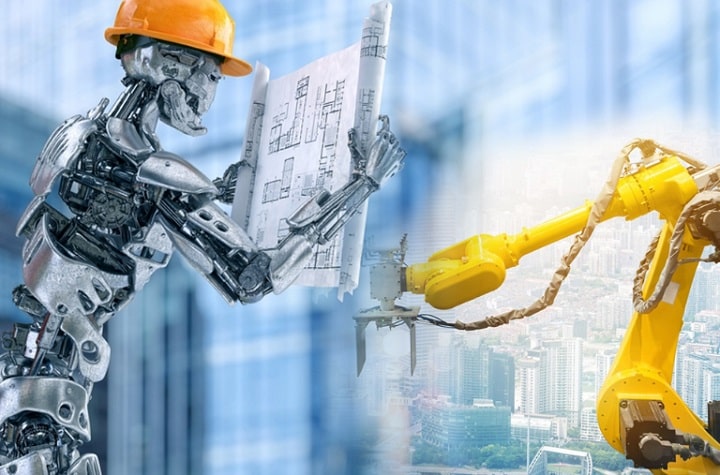 According to a recent survey conducted by the Association for Project Management- APM a chartered membership organisation for professionals in the management of projects, 70% of project professionals in construction sectors believe that the most recent developments in AI technology will bring positive changes to their sector such as enhanced decision-making capabilities, improved cyber security, and better reporting.
The most commonly cited reasons for how AI will have a positive impact on their sector are:
– Providing backing in decision-making processes
– Better cyber security measures
– Generating reports that are more consistent and timelier
– Allowing construction project professionals to allocate their time to more strategic aspects of their job
Only 8% of respondents who are employed in construction-related roles expressed concerns about the potential negative impact, while 22% indicated that they believe the impact will neither be positive nor negative.
According to the survey, approximately 32% of project professionals in the construction industry report that their organisation is currently utilising artificial intelligence in their projects. Additionally, 43% of these professional's state that their organisation has plans to incorporate AI in the near future. Only 24% of professionals in the construction industry report that their organisation neither utilises artificial intelligence nor has any intentions to implement it.
The survey also uncovered the influence that AI is currently having on individual project professionals. Among the respondents whose companies are currently using AI technology in their project delivery, a significant majority, i.e., 83% report that it has resulted in a noticeable transformation in their own role or within their team.
The changes that occur most frequently are:
It has been necessary to provide training and upskilling opportunities for the members of the team.
It has been necessary to recruit individuals with specialised skills into the team or organisation.
It has allowed to effectively plan ahead.
It has provided additional free time to focus on other important tasks.
It is crucial for the industry to allocate resources towards both people and AI tools
According to Professor Adam Boddison OBE who happens to be the Chief Executive of APM, our recent survey reveals that project professionals in the construction and various other sectors are actively adopting AI and recognising its effects.
It is inspiring to witness this progress, but the integration of new technology necessitates project professionals to adapt and stay informed about the rapid advancements that has been experienced. They have to modify their skills accordingly in order to stay up to date with the changes. Several survey respondents have informed that the introduction of AI has already required them or their colleagues to undergo training.
They highly recommend that business leaders and senior project managers who happen to be considering implementing AI prioritise training for the intended users. This will help ensure that the desired improvements to project delivery are actually achieved. The Association for Project Management, being the chartered membership body for the project profession, acknowledges the potential of AI to become a valuable tool for enhancing project delivery both presently and in the future.
The Salary and Market Trends survey conducted by APM provides valuable insights into the skills that project professionals should focus on developing in order to take advantage of the opportunities presented by the emergence of new technology. The survey, which gathered responses from over 2,000 project professionals, emphasises the increasing importance of these skills in today's rapidly evolving landscape. In order to succeed in their roles, project managers must possess a variety of important skills. These include strong communication skills, which are crucial for effective collaboration and understanding among team members.
Project leadership is also essential, as it allows managers to guide and motivate their teams towards achieving project goals. Furthermore, stakeholder engagement is vital for ensuring that all relevant parties are involved and informed throughout the project. People management skills are necessary for effectively managing and coordinating team members, while strategic planning and monitoring abilities enable managers to develop and implement effective project strategies.
With the advent of AI language models, project managers will also need to be proficient in utilising these tools to enhance risk analysis and gain valuable insights. Therefore, a combination of strategic planning as well as risk management skills will be crucial for project managers to excel in their roles.
A poll conducted by research company Censuswide surveyed more than 900 project professionals who work in various industry sectors, such as construction, engineering, as well as transport, on behalf of APM. APM is currently in the process of reviewing the findings and will soon share the data.