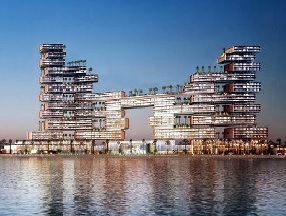 The 46-storey resort, on the crescent of The Palm and next to the iconic Atlantis resort, will offer a sophisticated experience with ocean views, lush green spaces, and dramatic architecture.
The property will house about 800 new guest rooms and lavish suites with architecture done by Kohn Pedersen Fox Associates and interior designed by GA Design, as well as 250 luxury residences designed by Sybille de Margerie Design.
Alan Leibman, CEO of Kerzner International, said: "The Royal Atlantis Resort and Residences will offer a new resort living experience, completely taking it to the next level, while adding an entirely new dynamic with our ultimate residences.
"As we continue to focus on our global growth strategy, we are thrilled to be making such a significant impact in Dubai, and to be building off the success of the Atlantis brand, which has been so well-received from guests from all over the world."
Other amenities include soaring private gardens, private infinity pools overlooking the ocean and The Palm, a new Sky Pool almost 90 metres above The Palm which will offer views of Dubai city, and the ultimate Beach Club.
The property will also feature new restaurants, luxury retail boutiques, spa, a fitness centre, event space for both large and small events, and will also offer water play and interactive marine experiences for residents and guests.