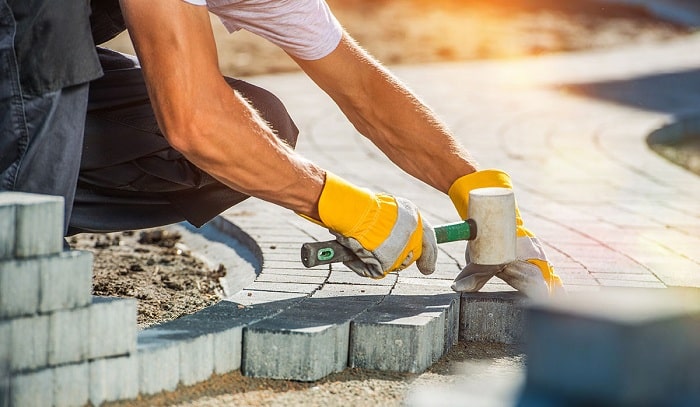 As the Island continues to wrestle with a spike in confirmed COVID-19 cases, including two towns, Tisbury, and now Edgartown, in the state's red zone as high risk, new guidelines have been drafted for construction and work sites on Martha's Vineyard as part of phase three of the construction site reopening plan.
In the early days of the pandemic, with an expected surge of infections, Island leaders imposed a ban on construction sites to prevent the spread of the coronavirus. Then in a phased-in approach, work sites were allowed to reopen, with some stringent health guidelines in place relating to job site occupancy, use of personal protective equipment, and other elements of individual and collective safety.
At a town hall held by the Martha's Vineyard Builders Association (MVBA), which saw around 300 participants, members of the association presented the third-phase reopening guidance alongside health officials and building inspectors.
Workers are permitted to ride together while wearing a mask, but are encouraged to keep the windows down when possible, because of how close the contact is inside a vehicle. Edgartown board of health agent Matt Poole said there are nine construction-related companies that have had one or more employees test positive for COVID-19 recently. This represents the full span of labor and trades jobs, including HVAC, electrical, plaster, drywall, landscaping, and many others.
As part of phase three, employers who have an employee test positive must report to their local health department within 24 hours.
Poole encouraged each individual worker to do his or her part in reducing the potential for workplace exposure, particularly by laying low and staying home if they think they might be sick.
According to Poole, the local data shows that the lion's share of COVID cases are being spread through community transmission, from Islander to Islander.
"We aren't seeing people from off-Island in our daily tallies, we are seeing Islanders. You can count on one hand the number of positives we have had from out of state in the past week or so," Poole said. He stressed the importance of working together as a community to stop this "exponential spread" before it gets worse.
Initially, when Poole and other building and health officials reconvened conversations around construction, he said there was a sense that the virus was establishing its first roots in the trades industry. "When I said that, it almost seemed like a little bit of a stretch, but in the few days that have passed, it is clearly, unfortunately, no longer a stretch," Poole said. "If we don't put in the extra effort, far above and beyond what we did this spring and summer, we are never going to be able to get our numbers down to a manageable level."
With Edgartown in the red (the highest risk assessment level) for the first week, and Tisbury in the red for the second week in a row, Tisbury health agent Maura Valley said the Island needs to lower its case count, or face another probable state-mandated shutdown.
"128 cases have been diagnosed in the last two weeks. Many of these have been in the trades," Valley said. "If you continue to be in the red three weeks in a row, the state starts telling you to roll back."
According to Oak Bluffs health agent Meegan Lancaster, the Island recently saw a 9.4 percent positivity rate for polymerase chain reaction (PCR) tests conducted from Nov. 8 to Nov. 14. If the Island was considered one town, this figure, Lancaster said, would put us in the red risk-level category.
In large part, phase three continues the guidance and safety precautions outlined in the second phase of reopening, with some important changes. An inspection by the building inspector or health agent prior to commencing work on a project that was halted during the moratorium or a newly permitted project is not required under phase three, along with the daily disinfecting of shared surfaces.
Included in these regulations are mandatory face mask requirements at all times on job sites, as well as the designation of a COVID-19 safety officer for each site. If a site has five or more workers on it at one time, the safety officer must be present at all times.
All sites are still limited to 10 workers unless permission is granted from the board of health or building department. Random inspections may take place at job sites, and inspectors may issue a warning, fines, or may require the site to be shut down, depending on the level of noncompliance. If workers are riding together in a vehicle without masks, they will be warned, or fined for subsequent infractions.
During the virtual town hall, 166 participants responded to a survey that assessed workers' feelings about COVID safety in the workplace, and their level of comfort regarding another shutdown.
One question asked how a shutdown of 14 days or more would affect workers without them getting financial relief or protection, to which 42 percent of respondents answered that "it will be difficult, but I will be OK."
Another question addressed whether folks would support another Islandwide construction service trades shutdown if local officials deemed it necessary, to which 37 percent said they would, but only if it were a complete shutdown, not just the construction trades.
According to the survey, an overwhelming 83 percent of respondents said they would support a seven-day shutdown penalty for companies or work sites that local officials deem grossly negligent or repeat offenders.