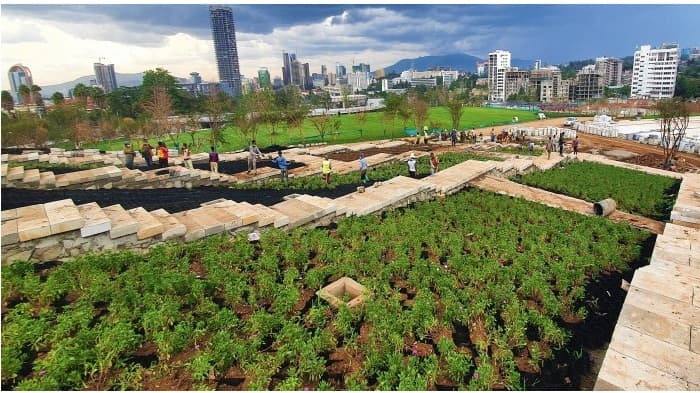 The construction works in the second phase of the Addis Ababa Riverside Green Development Project, in Ethiopia have begun. This phase is being undertaken by Jiangsu Nantong Sanjian Construction Group Co., a subsidiary of the Jiangsu Nantong Sanjian Group Corporation of China, on a 179,000Sqm piece of land situated adjacent to the premises of the state's Ministry of Foreign Affairs and on the National Palace Garage.
It mainly involves the construction of a central square including a science and technology museum, a children's amusement park, a sports center, a waterfront, auxiliary buildings, and a domed theatre as well as supporting facilities such as roads, pavement, ornamental lighting, and landscaping, etc.
This phase is expected to take about 14 months to complete at a cost of US$ 54.79M.

About the Addis Ababa Riverside Green Development Project
The Addis Ababa Riverside Green Development Project, otherwise known as the "Sheger Beautifying Project", is a project sponsored by the Ethiopian government and backed by the Chinese counterpart. The project aims to clean rivers and create public works in Addis Ababa, the capital city of the East African country. It was launched in February last year by Prime Minister Abiy Ahmed, and it is expected to be implemented within a span of three years.
The first phase of the project is under construction on a 27ha piece of land across from the Sheraton Hotel and it is nearing completion. It incorporates the construction of a "Friendship Square," the "Central Axis of Etiquette," a waterfall belt on Banteyiketu River, a central rally plaza, a lakeside fountain, a music square, five amphitheaters, and an artificial pond. It is being executed by First Highway Engineering Company, a subsidiary of the state-owned China Construction Company (CCCC).