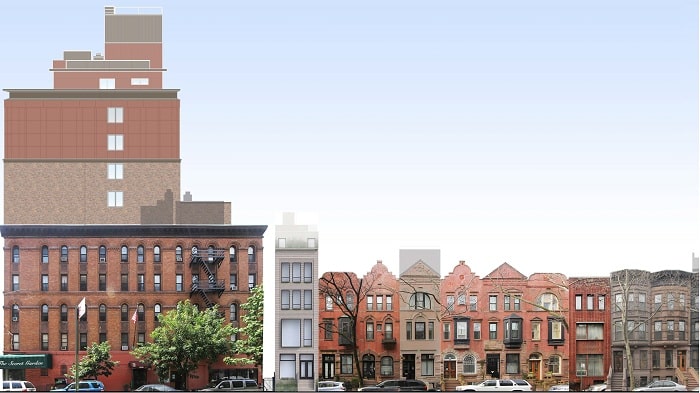 The Landmarks Preservation Commission (LPC) approved a design, proposed by New York City-based architecture and design firm DXA studio, for a new townhouse located at 110 West 88th Street corner of Columbus Avenue. The hearing was held Tuesday, February 9, 2021.
The New York City Landmarks Preservation Commission approved this 4,800 square foot 5-story, single family townhouse in the Upper West Side-Central Park West Historic District. The contemporary and contextual design draws inspiration from the district in utilizing a single material, travertine, to express a multitude of architectural features. The verdant character of the block on which it resides is continued inward in the form of integrated flower boxes along the facade and a continuous living wall that spans the full five stories of an open, centralized stair.
"We are very pleased to receive the Landmarks Preservation Commission's approval," said DXA studio Partner Jordan Rogove. "We feel the townhouse fits seamlessly into this beautiful West 88th street block without competing with the neighboring, eclectic Samuel Reed row houses. We thoroughly studied them and took our cues from their detailing, proportions, and materiality, and then expressed them in a more contemporary manner."
Construction on the new townhouse is expected to begin in the next year.
"Through a highly inventive concept, the window design creates the effect of an all-glass wall on the interior, while on the exterior, added travertine pieces bring the facade into a contextual relationship with the neighboring buildings" said DXA studio Co-Founding Partner, Wayne Norbeck. "We love how this contemporary notion of a window bringing maximum light can also work so well within the historic district.
About DXA studio
DXA studio is an award-winning design practice that provides a rare balance of expertly crafted design with technical proficiency. Believing in the power of architecture to positively influence the lives of all that engage it, DXA focuses on authenticity, sustainability and innovation in all their projects.
Established in 2011, DXA's expertise spans the full spectrum of design services and project categories including multi-family and single family residential, commercial, institutional and hotel design. In-depth research and analysis happen prior to design, identifying opportunities to push boundaries and integrate technological advances in building materials, construction, and sustainable strategies. By capitalizing on these discoveries, the site, program and unique opportunities of each project, DXA produces creative solutions and distinctive design work that consistently outperforms expectations.
At DXA studio, client projects begin with an open exchange of ideas and full architect-client collaboration. The client's program and desires, along with the complexities and context of the site are used to create a conceptual framework. From this process, a design of distinctive identity, clarity, and ingenuity is created.