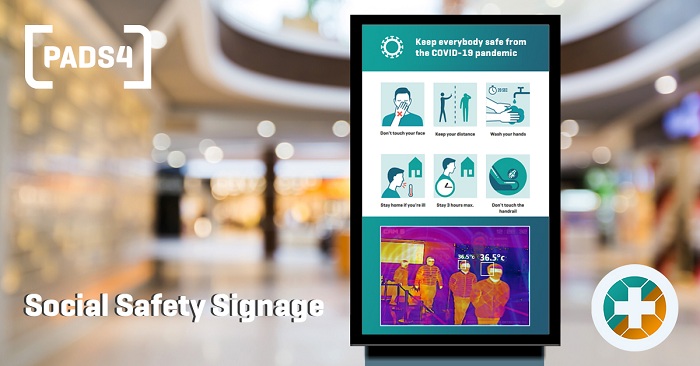 Developer of the PADS4 digital signage software NDS (Net Display Systems) and LCS, a provider of digital signage and workspace management systems, have decided to merge.
With over 25 years of experience the Dutch company NDS is a global player of data-driven software with a brand presence in 75+ countries. PADS4 is known as a software offering a global response to dynamic display communication challenges, external or internal communication and data connectivity for signage.
LCS, the French partner of NDS for more than 20 years, close to end-customers and constantly listening to the market demands, has started developing Crystal in 2017, a software platform for Smart Digital Building management including workspace, wayfinding, IOT management and digital signage in full integration with PADS4.
Both companies have recently decided to merge with the intention to become a major player in the global market of Smart Digital Building. As part of this operation, LCS has opened its capital to Turenne Capital as a minority shareholder, and raised €4 million to support its growth and business demand. In the new situation Philippe Bonnargent, leading LCS from day one will take the position of CEO at NDS. Former CEO of NDS, Willie Jan Bons will remain with the company as CTO.
"As NDS we have seen a trend of consolidation in digital signage with acquisitions and mergers under global digital signage software companies during the last few years. To secure our position and accelerate growth we decided last year to start looking for a strong partner." says Willie Jan Bons. "I am glad that with LCS we have found the ideal partner for us. Their expertise and products for workspace management enable us to extend our product portfolio. Moreover, because we already had a long-term business relationship it feels like a natural fit."
According to Philippe Bonnargent, this new organisation is a chance for new opportunities by combining the strengths of both companies. "With our joined focus on Smart Digital Building we are going to operate in a market which is much bigger than just digital signage and is expected to show substantial growth in the coming years. By combining our products and services we will be able to reposition PADS4 and Crystal as one unique solution on the Digital Smart Building market: both single platform (SAAS or On Premise) and modular. Through the joint forces of NDS and LCS, PADS4 offers the most complete answer in the field of workspace, wayfinding, IOT, and digital signage. Furthermore, the expertise and international experience of NDS will enable us to act as a global player in this market. And I would like to emphasize that we will keep supporting our worldwide partner network with their current and future PADS4 projects, despite the new focus on Smart Digital Building."
With global growth forecasts of more than 30% between 2020 and 2023 (sources: Press releases, investor Relation Presentations, Annual Reports, Expert interviews, and MarketsandMarkets Analysis), NDS aims to confirm its position as an international leader in the next 5 years.