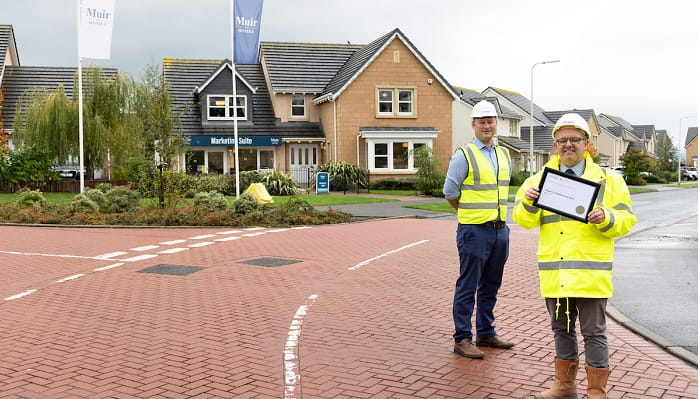 Fife-based, family-run housebuilder Muir Homes, part of the Muir Group, has won the Premier Guarantee Quality Recognition Award (PGQRA) for its stunning development of new build homes in Auchterarder.
The PGQRA is designed to recognise outstanding developments and throughout the year, only 100 developments from across the whole of the UK are expected to receive this prestigious award – only about 4% of the total number of sites inspected by Premier Guarantee.
The Castleton development captured the judges attention for the high-quality of these luxury homes in Auchterarder, one of Scotland's most sought after towns in the beautiful Perthshire countryside, just 10-minutes away from the world-famous Gleneagles golf course. The new homes cater to the needs of a wide range of homebuyers – from families to first time buyers – and the high demand has resulted in 30 plots selling out in six months ahead of schedule.
As a winner of the PGQRA, Muir Homes will be considered for this year's National Premier Guarantee Excellence Awards.
Paul McKay, Managing Director of Muir Homes, said: "We are delighted to receive this PGQRA award for our Castleton development. These beautiful luxury properties in Auchterarder are a reflection of our company's wider commitment to building new homes that are specified to an exceptionally high standard and it is great to receive recognition by industry experts for our approach to creating quality homes to suit every lifestyle."
Dan Hodgson, Business Development Manager of Premier Guarantee, said: "Muir Homes have been a long term client of Premier Guarantee and they have consistently produced quality homes. As a company, Muir Homes are a pleasure to deal with, they are prompt with information and clearly deliver results on-site too. This is not the first award that Muir Homes have won with us and I would be amazed if it was the last."
Muir Homes has more than 45 years experience building new homes across Scotland and is currently active on seven sites across the UK.
About Muir Homes
Muir Homes is a family-run, Scottish housebuilder with more than 45 years of experience in building happy communities of new homes with a focus on innovation and development. Muir Homes is committed to delivering high quality homes and exceptional customer service, building communities in carefully chosen locations across Scotland.