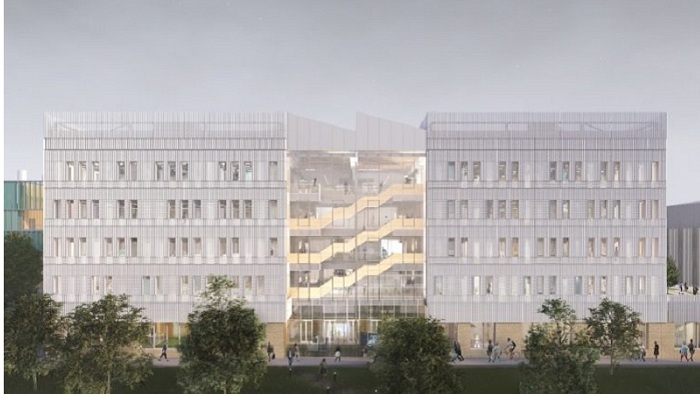 Illustration of the University of Hertfordshire's new School of Physics, Engineering and Computer Science building. Credit: Morgan Sindall Construction.
The Northern Home Counties business of Morgan Sindall Construction has been selected to deliver the new School of Physics, Engineering and Computer Science (SPECS) development for the University of Hertfordshire in the UK.
Planned to be built on a central 165,000ft² site at the College Lane Campus in South Hatfield, the SPECS building will comprise four separate internal blocks that will be divided by a central atrium.
Morgan plans to use its carbon calculator, Carbonica, to measure embodied and operational carbon on the project.
With its array of jargon and multitude of unwritten rules, navigating the heady world of fine wine can feel like a daunting task. From assuming you do not chill red wine to only pairing reds with meat, figuring out which popularly accepted truths hold merit – and which are downright misleading – will greatly aid your wine discovery journey.
And what better way to make sense of it all than speaking with an expert from London's oldest fine wine merchant? Here, Justerini & Brooks' buying director, Giles Burke-Gaffney, selects and debunks some of the greatest myths and misapprehensions, providing valuable advice and guidance when selecting and consuming the perfect tipple.
The firm will partner with ADP Architecture and Aecom to design the new five-storey steel-frame building.
Morgan Sindall Construction Northern Home Counties area director David Rowsell said: "Morgan Sindall Construction has successfully completed ten projects for the University of Hertfordshire since 2005.
"The SPECS building will be one of the most prestigious schemes delivered in the Northern Home Counties over the next few years and we are delighted to have been selected by the client to deliver it."
The project will also feature water reduction techniques, biodiversity carbon management and air quality commitments.
The contract has been awarded under the Southern Construction Framework (SCF), a collaborative framework for public bodies.
University of Hertfordshire vice-chancellor Quintin McKellar said: "The new SPECs building is a key development for the University and this significant investment highlights our commitment towards providing world-class teaching, learning and research facilities for our community and partners.
"The University is also committed to becoming a zero-carbon institution and it is important that this new development has been tasked with delivering innovative sustainable solutions to help tackle climate change as a priority."
The new SPECS development enabling works were finished last month while the main works are planned to commence this month.