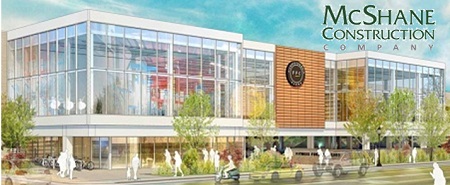 Jeffrey A. Raday, P.E., President of McShane Construction Company, is pleased to announce that the firm was selected by Cristo Rey St. Martin College Prep, a member of the national network of Cristo Rey schools, to complete the renovation and construction assignment for its new high school campus in Waukegan, Illinois.

The project requires the comprehensive transformation of a vacant retail development, previously anchored by Kmart, into a contemporary educational facility serving over 400 students.
"We are so pleased to be partnering with McShane Construction on this important project for talented and deserving youth in Waukegan," said Preston Kendall, President of Cristo Rey St. Martin College Prep. "This project is more than simply transforming a vacant big box store into a vibrant and innovative college prep high school, it is a significant investment in our collective future. McShane understands this and has been an important, trusted supporter of Cristo Rey students in the greater Chicago area for many years."
Situated at Belvidere Road and South Green Bay Road, Cristo Rey purchased the 115,300 square foot complex to accommodate its current student base along with the options for future expansion. The school is leasing its current space in Waukegan and will relocate to the new campus early next year.
McShane Construction began the extensive interior demolition in February making way for the build-out of the initial 55,000 square foot high school. The state-of-the-art facility will incorporate 18 classrooms, three science laboratories, offices, a cafeteria and a library commons area for students. The building will be modernized with a new HVAC system controlled by web-based building automation technology for added security and convenience.
The exterior will be enhanced utilizing painted CMU block masonry, fiber cement, a new aluminum curtainwall and partial roof replacement featuring 29 skylights for a source of natural light. McShane will also update a 2,000 square foot patio area providing outdoor learning and gathering space.
"McShane's extensive experience with renovation and educational projects provides the expertise necessary to deliver a first-rate school building for Cristo Rey St. Martin College Prep," remarked Raday. "Our assignment to convert this vacant retail center into a contemporary high school will repurpose and return an existing neighborhood property into a vibrant learning environment serving high school students with limited economic means."
JGMA Architects is providing the architectural services for the new high school that is slated for completion at the end of January 2018.