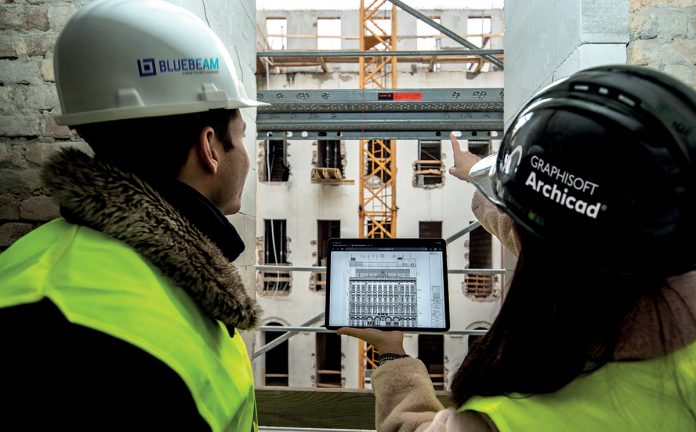 Márkus Engineering needed a reliable online project collaboration platform to maintain information flow between project teams both on- and off-site during the Covid-19 lockdown.
As the pandemic intensified, the firm was in the midst of managing a major renovation project in the heart of Budapest—the creation of a new Radisson Collection Hotel. With delivery of the high-stakes project under threat, Márkus needed a solution that would help them stay on schedule and on budget. Crucially, the solution had to work with Archicad, GRAPHISOFT'S BIM software, which was used by the project's designers and architects.
Márkus was able to switch seamlessly to remote work thanks to Archicad's Bluebeam Connection, which integrates the BIM authoring tool with the design review workflows in Revu. Better yet, switching to digital collaboration with Revu significantly streamlined working processes, leading to time and cost savings across the project.
Márkus has now made its switch to Revu permanent. Managing director, Tamás Márkus, said: "In Hungary, 89% of architects work in Archicad. Revu was the right solution for us because it integrates seamlessly with the Archicad software. It's versatile and cost-effective, which is important to us as a small business.
"We saved 50% of our time on design reviews and completed quantities and estimations five times faster."
50% time savings on design reviews
With Bluebeam Connection, all markups created in Revu are imported as native Archicad entries, appearing in the correct location on design layouts, without any manual work.
This seamless compatibility led to a 50% time saving on design reviews for Márkus Engineering. As a small business, gaining this time back was a blessing.
Simple document management
Márkus set up a system to leverage Studio Projects to host a Digital Dashboard, using it on a daily basis to access up-to-date project information, from construction drawings to RFIs.
Digital Dashboard is a customisable navigation interface which links to a folder structure granting quick access to important project files. Using this feature, the team could easily find information they needed among the 1,250 plans and 15,000 links stored on the Digital Dashboard.
Keeping communication flowing
Studio in Revu allows you to invite team members from anywhere in the world to collaborate, giving external stakeholders the ability to mark up and review documents in real time. The Márkus team kept up its weekly project meetings during lockdown with Studio Sessions. Because Revu is accessible online all of the time, there was no need to wait for face-to-face meetings for approvals.
5x faster quantity takeoffs and estimations
Quantity takeoffs and estimations are critical for every construction project. Thanks to the measurements and quantity calculation functions in Revu, Márkus was able to complete quantity takeoffs and estimations five times faster than before. A Márkus employee said: