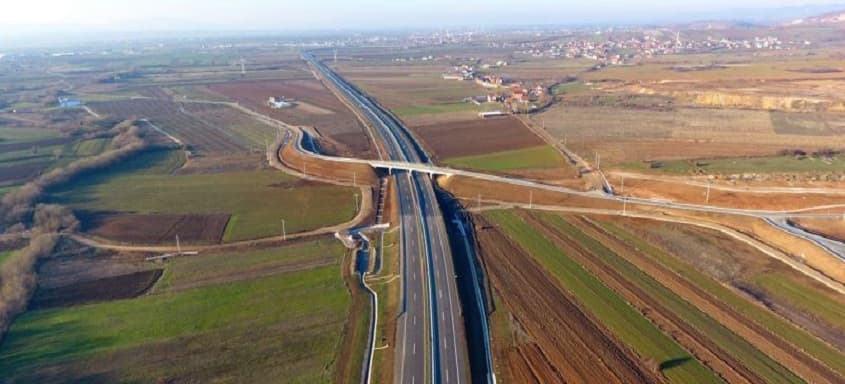 Kosovo Motorway Project Team has opened an additional 11 km length of the highway to Kosovo citizens' use on 22 December 2017. Together with this new segment, the total length of the highway that is opened to public reached to 37 km!
Kosovo Motorway Project, 65 km dual carriageway motorway, is a part of the Southeast Europe Core Road Network in which it is referred to as Route 6. The project is linking Kosovo's capital city Pristina to Hani i Elezit on Macedonian border. Upon its completion, the motorway is expected to have significant strategic and economic benefits; accordingly, Kosovo will be connected to Skopje and will have access to Corridor 10, facilitating its trade with the rest of the world. Furthermore; the economic benefits will not be limited to Kosovo. The motorway is part of a European network of roads and is expected to contribute to economic integration throughout the region.
ENKA Bechtel JV (BEJV ) has been awarded Design and Construction of Route 6 Pristine Hani i Elezit Motorway Project in July 2014. The Project consists of the construction of a 4 lane Motorway from the south of Prishtina (Kosovo's Capital City) to Hani i Elezit (on the Kosovo and Macedonia border). The 65 km Motorway will serve as the centerpiece of Kosovo's national transport system; it will pass through both government and private land and is scheduled to be completed by December 2018.
The project scope includes 13 bridges (7,920 m), 19 overpasses, 18 underpasses, 240 box and pipe culverts, 19 million m3 excavation, 10 million m3 earth and rock fill, 540K m3 concrete, 740K m3 subbase & CTB, 595K ton asphalt and 170 km guardrail.
Together with 11 km new segment which was opened on 22 December 2017; totally 37 km has been served to Kosovo citizens' use. Until this opening section, 8.9 million m3 excavation, 5.4 million m3 fill, 110K m3 concrete, 468K m3 subbase and CTB, 355K ton asphalt, 110km guardrail has been completed.
As of December 2017, 80% of construction works, 6 bridges with a total length of 630 m, 16 overpasses, 15 underpasses, 209 box and pipe culverts, 15.8 million m3 excavation, 8.6 million m3 fill, 254K m3 concrete, 590K m3 subbase & CTB, 433K ton asphalt and 125 km guardrail have been completed throughout the project. Over 16 million man-hours have been worked. A total number of 3.829 personnel has been employed at peak, which included 13 different country citizens such as Kosovo, Turkey, Albania, Romania, Macedonia, United States etc. in which Kosovo citizens have a weight of almost 80%.
ENKA's focus together with Bechtel for the future is to complete the works on time with maximum satisfaction of the Government of Kosovo without compromising safety and quality.