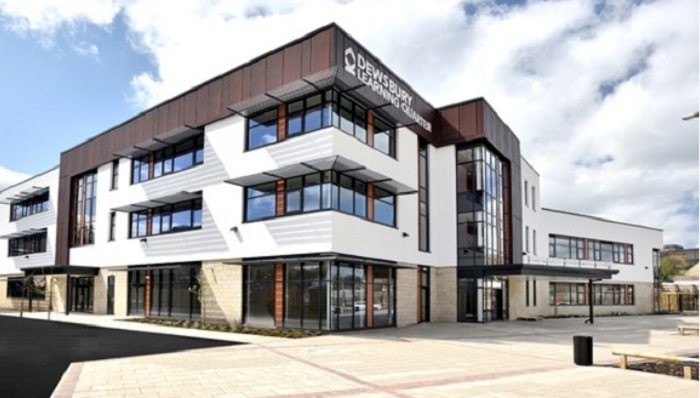 Kier, a leading infrastructure services, buildings and developments & housing group, is pleased to announce that Kirklees College's Springfield Sixth Form Centre has been shortlisted in the Best Educational Building category at this year's Local Authority Building Control (LABC) West Yorkshire Building Excellence Awards.
The Springfield Sixth Form Centre is part of Kirklees College's Dewsbury Learning Quarter. Kirklees College appointed Kier to deliver the £7.6m sixth form centre, with works starting in December 2016 and completing in January 2018.
The new centre has state-of-the-art facilities including brand new art IT studios, food technology classrooms, hair & beauty studios, art & design classrooms and a space for motor vehicle courses.
Terry Cocker, senior project manager at Kier, commented: "I worked on this project from bid stage through to completion. We worked closely with the client throughout and we used the lean planning process to keep all parties informed of developments, actions and progress – by using this contributed massively to the success of the project."
Ian Webster, Director of Estates at Kirklees College, said: "Kier has helped, identified and challenged our needs, supported us, and been open in discussion; the level of detail has been excellent. We have been very impressed with the approach taken, the quality, and consistency. Kier has been innovative and has found a solution for us – it has been a delight to do business with Kier."
The LABC awards are the largest business to business awards in the building control sector and recognise quality in all types of building project. If successful, the Springfield Sixth Form Centre will compete against North, East and South Yorkshire winners, with the possibility of progressing to the LABC Grand Finals in November.