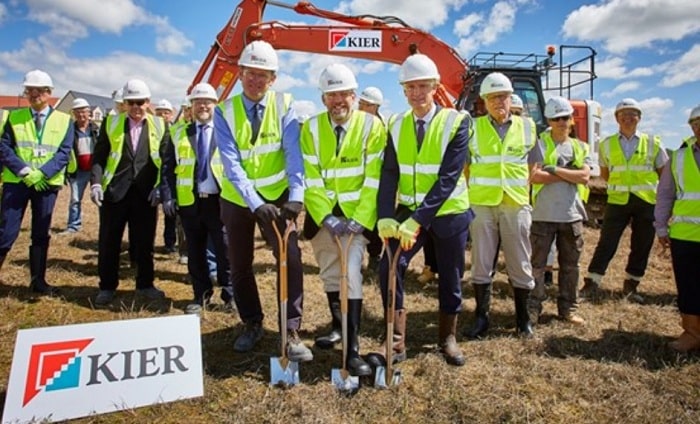 Representatives from Kier joined Oxfordshire County Councillor, Dan Sames and David Maine, Director of Estates and Facilities for The White Horse Federation to officially mark the start of work at the new Whitelands Academy in Bicester.
The new 600 pupil, 5,210m2 school will house 26-classrooms and dedicated special educational needs areas as well as a four-court sports hall with changing facilities. Also part of the new building will be outdoor social spaces including a garden and allotments, quiet areas, a multi-use games area and sports pitches for rugby, hockey and football.
Internally, the academy, which is overseen by the White Horse Federation, a multi-academy trust of over 30 schools across south west England, will include a main hall linked to a drama studio and a dining area and kitchens with access to an outdoor covered seating area.
Jason Brown, Director for Kier's Oxford Office, said: "We are extremely delighted to be working with Oxfordshire Country Council to deliver Whitelands Academy at Bicester.
"This new 600 pupil secondary school will open in September 2020 and provide first class learning and sports facilities for pupils in the surrounding Kingsmere community.
"This project is the first contract being delivered through our new Oxford based office and further reinforces Kier's position as the UK's leading builder of educational establishments, delivering over 1000 spaces per week."
Dr Nicholas Capstick OBE, CEO of The White Horse Federation, said: "As the White Horse Federation, we are proud and deeply excited to be the sponsor of The Whitelands Academy. We have great ambitions for the school and relish the opportunity to ensure it becomes a true centre of academic excellence."
Whitelands Academy is at the centre of a new village community in Bicester called Kingsmere and is the second project Kier has delivered that is managed by The White Horse Federation, having previously built the Gloucester Academy in 2013.