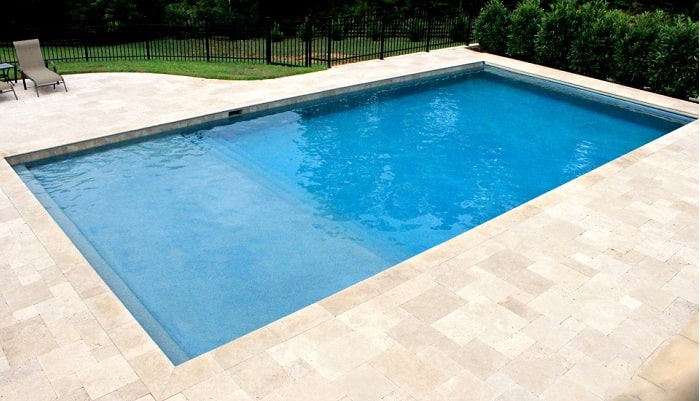 Swimming pools are primarily divided into inground pools, above ground pools and semi-inground pools. Above ground pools are temporary installations and are great for rental properties. They have limited design options and only feature prefabricated specifications. One unique advantage of the pool is the low price. Semi-inground pools have the brim off the ground but their depth extends into the ground. Inground pools are the most popular and perhaps the oldest design. Nonetheless, they have stood the test of time and are the most versatile option. The inground concrete pool in particular is renowned for it's numerous advantages. Here is why inground concrete swimming pools are the best choice.
Size
There is no limit to how big you can build an inground concrete pool. Most olympic sized pools are concrete pools. Considering the size, the construction of the pool requires professional expertise. The size is decided at the design stage and all appropriate ground preparations are done before excavation begins. Construction of large pools is labour intensive and it's best left to the professionals.
Shape
One of the greatest advantages of inground concrete pool is the limitless options in the shape. The pool doesn't follow rigid specifications like prefabricated units. Concrete allows designers to shape the pool without limitations. Everything from regular shaped pools to custom designs can be constructed in your backyard. As a result, backyards with irregular demarcations can still accommodate an inground concrete pool. In some builds the pools feature sectional designs with multiple shapes combined in one installation.
Depth
There is no limit to how deep an inground concrete pool can go. Unlike prefabricated buried pools, concrete pools follow site designs. Deeper pools require extensive excavation and some permits must be acquired for the job. The pools also have reinforced structures to withstand the heavy water pressure and forces exerted by the soil. Concrete pools also allow for sloping. This ensures you have both deep and shallow ends to accommodate all swimmers and improve safety.
Finishing
Inground concrete pools welcome a wide range of finishes. Tile finishing is a popular option for concrete pools. The tiles are typically made of stone, porcelain or glass. The latter can be textured, hand-painted or glazed and it's a great choice for waterline tile. Tiles last long and are easy to clean. Aggregate finish feels great on the feet. They are usually exposed or polished. Plaster finish is simple to install, classy and inexpensive. However, it feels rough to touch and accommodates algae that requires surface maintenance.
Additional Fixtures
Inground concrete pools can accommodate a wide range of fittings. Safety fittings that are used on the pool include rails and pool ladders. A diving board can also be fitted on a concrete pool. Other functional fittings include in-pool seats and tables. These are designed to serve as relaxation spots within the pool. Fountains are an elegant addition only fitted in concrete swimming pools. They add a unique look to the outdoor space and enhance the swimming experience.
Durability
Concrete pools are one of the most durable options. They are designed from reinforced building materials that are sure to last for decades. The pool can take a lot of injury from the elements without compromising the integrity. As a result, it's the best option for people residing in poor climatic areas.
Maintenance and Repairs
Maintenance requirements for inground concrete pools are slightly more than other pools but the advantage lies with repairs. The pools are easy to repair. Unlike other pools, serious damages don't necessitate replacement. You only need to empty the pool and render the appropriate repairs.
Property Value
Inground concrete pools significantly raise the property value of a home. Inground pools are capital investments that directly contribute to the property value. Concrete pools in particular hold a lot of value. They can take your home up the property market. Moreover, amenities like swimming pools attract home buyers. The rental market also holds a huge demand for pool installations.
Landscaping
Inground concrete pools go a long way in enhancing landscaping within exterior spaces. A pool blends seamlessly with landscaping designs and breaks the visual monotony of gardens and lawns.
Inground concrete pools remain the best pool option despite their long history and few drawbacks. Invest in one and you will not regret it.