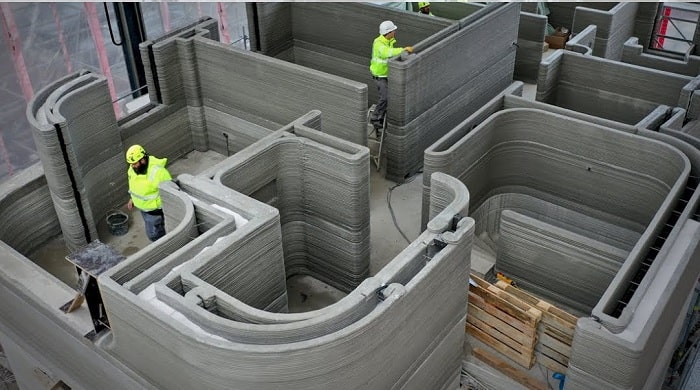 ICON, the leader of advanced construction technologies pioneering large-scale 3D printing, and Lennar, one of the nation's leading homebuilders, announced that construction is underway on the largest community of 3D-printed homes and reservations will begin in 2023.
Situated north of Austin in the city of Georgetown's master-planned community of Wolf Ranch by Hillwood Communities, a Perot company, the 100-home community combines innovative robotics, software and advanced materials to create homes that are technologically advanced, environmentally sustainable and architecturally striking. Each Lennar home in Wolf Ranch is co-designed by the renowned architectural firm BIG-Bjarke Ingels Group. Prices are anticipated to start from the mid-$400,000s.
"We are very pleased to partner with ICON and BIG in building a first-of-its-kind, printed home community that combines innovative designs with sustainable features at an affordable price," said Stuart Miller, Executive Chairman of Lennar. "Given the housing shortage that persists across the country, it has never been more important to innovate in order to find new methods of construction that will enable greater design flexibility and greater production at affordable prices."
Blending contemporary Texas ranch style aesthetics, the community of 3D-printed homes features elevated architectural and energy-efficient designs that highlight the benefits of resiliency and sustainability with the digital possibilities of additive construction. Delivered at speed and at scale using a fleet of ICON's Vulcan robotic construction systems, software and advanced materials, each home's full wall system – including interior and exterior walls – are produced with less waste and with more design freedom.
"For the first time in the history of the world, what we're witnessing here is a fleet of robots building an entire community of homes. And not just any homes, homes that are better in every way… better design, higher strength, higher energy performance and comfort, and increased resiliency," said Jason Ballard, co-founder and CEO, ICON. "In the future, I believe robots and drones will build entire neighborhoods, towns, and cities, and we'll look back at Lennar's Wolf Ranch community as the place where robotic construction at scale began. We still have a long way to go, but I believe this marks a very exciting and hopeful turn in the way we address housing issues in the world."
Construction at Wolf Ranch deepens a relationship that began with Lennar's investment in Austin-based ICON's series B financing round and offers a promising path toward an alternate method of delivering technology-driven homes that meet rising demand in desirable communities. In addition to state-of-the-art homes, Lennar homeowners in Wolf Ranch can enjoy all of the amenities offered in tree-covered hill country – including pools, recreational trails and parks within easy access of downtown Georgetown and a short drive to Austin.
Lennar's investments are facilitated by LENX, which drives a focused strategy within Lennar to integrate technology solutions across the homebuilding industry. With a clearly defined strategy of investing in technology companies directly adjacent to Lennar's core homebuilding operations and a disciplined investment process, LENX provides hands-on mentorship and guidance from senior leaders of Lennar's management team and a marquee opportunity to provide products and technology to Lennar customers, allowing portfolio companies to scale at an unprecedented pace.
The community will offer eight stunning floorplans with 24 unique elevations ranging from 1,574 to 2,112 square feet of thoughtful living space. The homes will offer three to four bedrooms and two to three baths. All homes will be powered by the sun with rooftop solar panels and will feature components from Lennar's Connected Home package including a Ring Video Doorbell Pro, a Schlage Encode™ Smart WiFi deadbolt and a Honeywell Home T6 Pro WiFi smart thermostat. Plus, each home will come equipped with the Wolf Ranch security package.