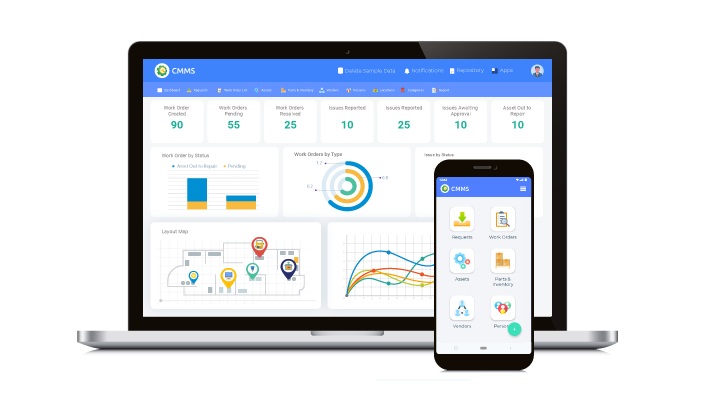 It is no surprise that construction projects are complicated. In fact, there are several pitfalls to be cautious of, from poor communication to a lack of structure. The last challenge construction companies need to deal with is a lack of productivity from their employees. 
In any competitive marketing environment if companies want to succeed, then the productivity issues must be addressed. Productivity dictates the profitability of a company. Especially after a volatile year, any competitive edge could mean the difference between success and failure. 
But how do we address the productivity, or lack thereof, found on a construction site? With a CMMS. A CMMS is a computerized maintenance management system. These cloud-based digital systems provide a platform to manage the maintenance activities of a company. 
Here is how a CMMS increases productivity on a construction site
Maintain your project schedule
Keeping construction projects on schedule is more challenging than it seems, with several variables constantly affecting activities, and nothing slows down a project more than an unforeseen breakdown. Maintaining assets and machinery through preventative maintenance is crucial. 
With a CMMS, companies can plan maintenance activities according to a schedule that best suits the project. This means that downtime required for repairs and maintenance will not affect the construction schedule. Preventative maintenance can benefit the company, reducing the number of breakdowns that occur, and planning a construction schedule based on the machinery in use will increase the productivity that takes place on the site. This is all efficiency achieved through a CMMS. 
Another benefit that raises efficiency and helps maintain a schedule. Particularly for larger construction businesses with multiple construction projects, is the ability to track and locate machinery and assets.  
Having the ability to keep track of your assets and machinery, through a CMMS, means that construction companies can locate any machinery that is not currently being used and assign it to a project. Thereby increasing the progress made on a construction site. 
Maintain Compliance
Did you know that according to the Occupational Safety and Health Act, a company's forklift must be inspected before use? While there are several aspects to health and safety compliance standards, equipment maintenance plays a significant role. After all, if the construction site is not OSHA compliant, the best-case scenario results in the employees being asked to leave the premises. This will result in the project being delayed even further. The worst-case scenario is the site shutting down and the company receiving a financial penalty for their violations. 
Compliance also affects productivity as safe business practices are the most efficient. For a construction site, this means unsafe machinery that has not been maintained correctly, will require more resources to operate, and the results will be poor. 
A CMMS provides an online platform to collect and store all the data that pertains to the assets and equipment. Including maintenance history, vendor warranties, and employee certifications. Meaning that projects will not be hampered by compliance regulations and can continue the course to completion. 
Reduction in onsite asset theft
A majority of companies have to deal with theft, some more often than others. However, the impact of the theft can vary. A construction site is asset-intensive, and has many specialized and expensive tools, alongside other general tools. These tools are required daily, and if it is stolen then the project can be delayed while new equipment is purchased. 
A CMMS can log all the equipment used on a site, who used the equipment last, and the time that it was put into storage after use. These features will reduce the amount of theft that occurs on the site. This will also reduce any delays attributed to theft. Ensuring that employees can continue their tasks. 
Flexibility through a mobile application
Construction sites often have a large footprint, particularly commercial sites that undertake projects such as malls or residential complexes. The challenge with such big work sites is that communication can be difficult. Poor communication will impact the productivity of employees. 
Fortunately, many CMMS platforms now provide a mobile application to access the system. This means that the CMMS is accessible on an employee's smartphone. Allowing employees to conduct their maintenance activities required on a construction site through the mobile device and increases their productivity. 
A mobile CMMS increases the productivity of employees in the following ways: 
Employees can now log maintenance work orders wherever they are on the site. If they spot an asset that requires maintenance, they can log a work order immediately through their smartphone. 

Employees can receive work orders directly on their smartphones through the CMMS application. 

Employees can access and upload maintenance information onto the platform from their smartphones. This is more efficient as the employee does not need to be at their workstation to do so. 
A CMMS for for the construction industry does not only assist in streamlining the maintenance process conducted on construction projects. The system also increases the efficiency of employees on the whole, with a user-friendly mobile app and many intuitive features.