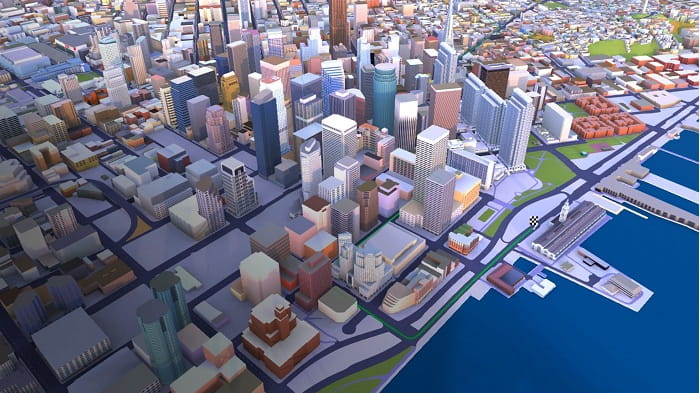 Here Premier 3D Cities contain rich data layers and attributes aligned to physical geometry and terrain with sample datasets of London, Berlin and Munich available on AWS Data Exchange.
Location data specialist Here Technologies has unveiled high-fidelity, 3D models of 75 global city centres to give software developers the geospatial data needed to build real-world visualisations of cities.
Here Premier 3D Cities, showcased at the CES2021 electronics show which is being held online from 11-14 January, contain rich data layers and attributes that are aligned to physical geometry and terrain. Each structure is indexed, addressable, and accurate in terms of physical location, volume size, elevation and façade colour.
Highlighting single buildings
The indexed and addressable structures within Here Premier 3D Cities allow developers to search and highlight individual buildings, attach additional metadata to the structures, and apply advanced rendering techniques including CGI applications.
They are available in Cesium/OGC 3D Tiles to support seamless integration. Each kilometre of data is stored in small-sized tiles for efficient streaming and rendering. Sample datasets of London, Berlin and Munich are available on AWS Data Exchange.
Here reckons the partnership will help to create solutions across a number of sectors. The company gives the examples of how last-mile delivery drivers able to navigate dense cities with maps that highlight precise building dimensions and entry points along their delivery routes and how urban planners and emergency responders can build digital twins for better land use analysis and disaster readiness simulations.
"With the enterprise developer in mind, Here has captured, indexed and mapped the world's major road networks and urban centres in 3D," said Jørgen Behrens, senior vice president and chief product officer at Here Technologies.
He continued: "We're excited to see how these unique 3D city models open up a world of possibilities and value for businesses. They are the building blocks to create accurate, sub-meter augmented reality applications that are transforming supply chains, transportation and mobility networks, and overall consumer experiences."
Here has mapped 196 countries and collects more than 28 terabytes of terrestrial lidar data every day. The model cities are created with multiple sources – including lidar, optical and satellite imagery – as well as cartographic expertise and artificial intelligence (AI) and machine learning applications.
Here has also announced a partnership with Leia, a provider of Lightfield hardware and content services and the mobility supplier, Continental, to bring 3D maps and navigation onto Lightfield displays for automotive OEMs. Together, the companies will create a spatial reproduction of the real world that will help drivers better orientate themselves and stay more alert while driving.
Here's 3D depiction of buildings and topography can be displayed in Continental automotive display solutions courtesy of Leia's Lightfield software that allows for the visualisation of 3D maps for extended periods of time without the need for adaptive eyewear or an eye-tracking sensor. As a result of this partnership, 3D maps are becoming an essential building block for Leia's Lightfield automotive software development kit (SDK).
"3D display technology not only brings a new wow-factor into the cockpit but with the right content, it also creates a more intuitive interaction between driver and vehicle and thus enhances driving safety," added Ulrich Lueders, head of strategy and portfolio at Continental's business unit Human Machine Interface.
"As we see this especially for 3D navigation, I am very happy that we can contribute to a better UX (user experience) and safer driving environment by bringing together Here premium map content and Leia's Lightfield software with our expertise in automotive human-machine interface solutions."