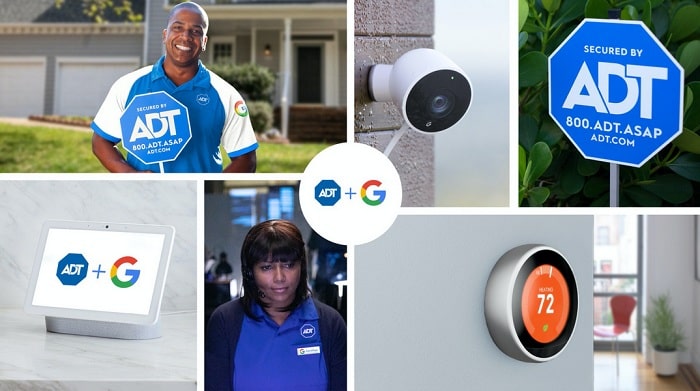 ADT, a leading provider of security and smart home solutions, and Google announced they are entering into a long-term partnership to create the next generation of smart home security offerings. The partnership will combine Nest's award-winning hardware and services, powered by Google's machine learning technology, with ADT's installation, service and professional monitoring network to create a more helpful smart home and integrated experience for customers across the United States.
The partnership will integrate Google's hardware and services and ADT's DIY and professionally installed smart home security solutions to innovate the residential and small business security industry. The future ADT + Google helpful home security solution is expected to advance smart home offerings and attract new consumers seeking premium technology, end-to-end smart home service and trusted security.
"We are thrilled to partner with Google to provide the smart home market with a strong, differentiated product and service offering that integrates the best technology, hardware and smart home security expertise from our two brands," said Jim DeVries, President and CEO of ADT. "Google's partnership and financial investment in ADT underscores the depth of our joint commitment to the smart home and security markets. Our entire leadership team is looking forward to continuing our work with Google as we define the future of helpful home security and build a productive long-term partnership."
"We're excited to partner with ADT to further our mission of building helpful devices for the home," said Rishi Chandra, GM and Vice President of Nest. "ADT is a leader in smart home security, and I look forward to working with the team to create innovative smart home security solutions that help everyone feel safe and protected."
Partnership Vision
The partnership pairs ADT's more than 20,000 professionals together with Google's suite of helpful home hardware, manufacturing technology and vertical technology stack.
ADT + Google will offer customers an advanced, integrated helpful home security solution. The partnership is underpinned by a long-term commitment from both companies to making safe, secure, private and differentiated products accessible to new and existing customers.
The simplified yet innovative ADT + Google security solution will sit at the center of the new, helpful home, and advances in machine learning will transform the smart home security customer experience.
ADT expects to offer certain Google devices to its customers beginning this year and to expand the integration in 2021. The complete ADT + Google helpful home security solution will utilize a secure platform for a seamless experience that prioritizes privacy and interoperability for greater customer peace of mind and choice.
Strategic Investment
Google will make a $450 million investment in ADT in exchange for shares of a newly created Class B common stock having all of the rights and preferences of ADT's common stock except for the right to vote on the election, appointment or removal of directors. Upon the closing of Google's equity investment in ADT, Google will own 6.6% of ADT's outstanding aggregate common equity. Google's equity investment, which is subject to customary closing conditions, is expected to close in the third quarter of 2020. Proceeds will be used to fuel growth and reduce leverage over time.
Each company will commit an additional $150 million, subject to the achievement of certain milestones, to be used for co-marketing, product development, technology and employee training to advance the partnership. These investments are expected to accelerate ADT's capital efficient growth and drive broader consumer awareness and deeper product innovation for both companies in the fragmented yet rapidly expanding smart home market.
About ADT
ADT is a leading provider of security, automation, and smart home solutions serving consumer and business customers through more than 300 locations, 9 monitoring centers, and the largest network of security professionals in the United States. The company offers many ways to help protect customers by delivering lifestyle-driven solutions via professionally installed, do-it-yourself, mobile, and digital-based offerings for residential, small business, and larger commercial customers.