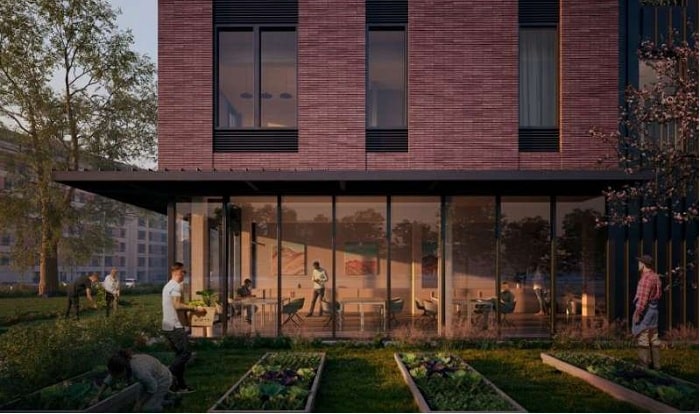 Architecture studio Generate has developed the Tallhouse library of timber-based building systems to help architects build affordable housing and reduce construction-related carbon emissions by up to 50 per cent.
The architecture, engineering and construction company developed the online catalogue to provide architects with pre-engineered, timber-based construction systems that they can adapt for large-scale projects.
It includes four timber-based designs: a steel and cross-laminated timber (CLT) structure; a mass timber post, beam and plate structure; a light-gauge metal and CLT structure; and a full CLT plate honeycomb structure.
These designs can each be used as a "kit of parts" for buildings ranging from eight to 18 storeys. By allowing architects to build quickly, sustainably and cost-effectively, Generate said Tallhouse could "revolutionise the construction industry".
"Generate partners with architects and developers to digitally integrate these systems into their residential and commercial projects," Generate CEO John Klein told Dezeen.
"Working with pre-vetted, replicable systems enables significant acceleration in project delivery, while permitting architects to spend more time on the creative process of design, resulting in the delivery of at once higher-quality and cost-effective projects."
Boston-based Generate developed Tallhouse with Buro Happold Engineering, Niles Bolton Associates, Consigli Construction, Code Red Consultants, Olifant Market Development, Urbanica Development and Arup Engineering.
The project was conceived in response to a shortage of affordable housing and with an aim to reduce carbon-output in Boston. With buildings accounting for 40 per cent of all greenhouse gas emissions, Tallhouse offers digitally available designs with low carbon footprints.
The project aims to reduce building-related carbon output in Boston
"By 2050, Boston expects to build 300,000 housing units, and 400,000,000 square feet (37,161,216 square metres) of commercial buildings," Generate explained.
"In parallel, the city intends to have reduced its carbon footprint by 80 per cent in 2050 – an unachievable goal if the status quo of carbon-emitting structures is preserved."
The four systems are based on heavy timber because it is more environmentally friendly than other materials – largely because it does not create as many carbon emissions in manufacturing and it also acts as a carbon store.
The systems can offer large reductions in carbon emissions, according to the team.
"Whole-building greenhouse gas emissions savings ranged from 14 to 52 per cent for structural solutions that use heavy timber compared to typical steel and concrete reference cases," said Buro Happold Engineering principal Julie Janiski.
Each design comes with integrated systems like modular bathroom and modular kitchens
Klein said Tallhouse's "pre-vetted" library, which is code-compliant, also allows architects avoid the complications involved when using timber in construction.
"Novel construction technologies, like mass timber, take time to become widely adopted and integrated into the built environment," he added.
"Lack of familiarity with materials, codes, detailing and overall design considerations require increased upfront considerations from design teams," he added. "Having code, carbon and building quantity data digitally accessible allows architects to eliminate the upfront R&D, and focus more on design."
Each Tallhouse design is evaluated by a Carbon Data Analysis tool, called Tally, to provide architects with information on the implications of building materials and systems and help them choose options to produce fewer greenhouse gas emissions.
The systems are intended to be used like a replicable kit of parts that can be integrated into designs. They also come with a prefabricated panelised exterior wall system, modular bathroom and modular kitchens, and prefabricated mechanical, electrical and plumbing assemblies.
Tallhouse is the latest project by Generate to use wood to create more environmentally friendly buildings. It has also worked with developer Placetailor to design a carbon-neutral apartment block in Boston using a cross-laminated timber kit of parts.