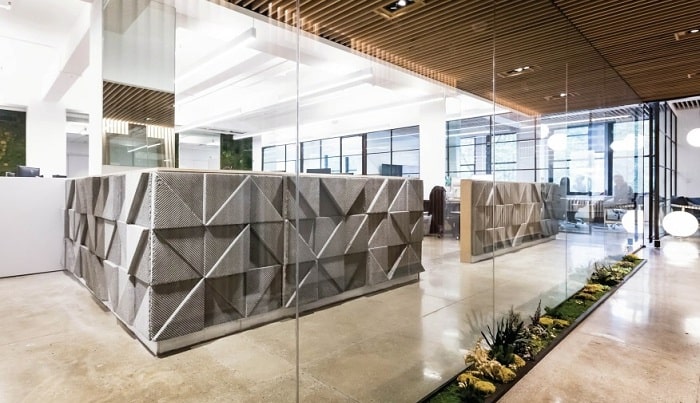 Cities are losing their ornament as exquisitely detailed, historical buildings gradually fall into disrepair, the cost of restoration rises, and the number of people capable of such craftsmanship drops. New York–based Edg is one firm hoping to reverse this trend through the use of additive manufacturing. Founded by principal John Meyer in 2004, the 30-person team of designers, engineers, and architects has developed modeling software and a localized 3D printing system to restore historical façades to their glory, on-site.
Edg's system using custom molds to cast its design—which Meyer acknowledges is not a new concept. What is innovative, he adds, is the firm's design process and localized printing system, refined over many years. Instead of packaging and transporting cast products from a printing facility to a project site, which increases lead times and the potential for damage, Edg can 3D print molds and cast ornamentation on-site just prior to installing the finished pieces in their designated place.
The process aims to both support historical renovation and reintroduce ornamental details to buildings in a cost-effective way. By layering custom software plugins over Grasshopper, Edg says it has created a user-friendly digital rendering process that opens the door to customers outside the design industry. Meyer envisions a future storefront in which individuals hand-pick elements from existing buildings, create new patterns, and eventually sell their own ornament online.
The project began with Meyer exploring the use of 3D printers in construction for creating complex geometry, later researching more efficient methods to fabricate façade details. Instead of a five-axis CNC mill, which carves—or subtracts—material to make a mold, he wanted to use a large-format 3D printer to generate a bespoke mold from recyclable printing mediums such as PLA, ABS, and nylon.
Meyer believes one of the greatest advantages to Edg's technology is its efficiency. In communities where tight budgets typically lead to "bland, monotonous design" he says, this technology can enable them "to add ornament to a building in a cheaper and more economical way."
As Edg worked to develop manufacturing partnerships, it launched Synthesis 3D, an extension of the design firm that creates 3D printed objects, to help fund the firm's long-term investigation into 3D printing façades and larger scale projects. These products often appear in Edg's interior design projects in the form of feature walls and furniture pieces, such as a concrete table that takes the form of large-scale bolt.
With the office's recent acquisition of a 3D printer capable of printing a 3½-foot cube, Edg has been able to prototype its ornament more rapidly. The team experiments not only with design and proportion, but also with different printing materials, such flexible or water-soluble concrete mixtures.
"We've been able to reduce the cost of a lot of our printing parts—to between 30% and 50% of what it originally was just by experimentation, understanding the limits of the technology [and] the materials," Meyer says. "We really refined our process, and we've turned it into a nice kind of manufacturing line."
Meyer and Edg's team are integrating other developing technology into Edg's workflow, such as high-resolution laser scanners to scan and render a façade fragment. These scans can inspire further design, but also ease the restoration of deteriorated building components. Instead of re-sculpting a historic façade, for example, Edg could scan an element and 3D print it anew.
Meyer also sees potential in reducing the cost of bespoke design through a friendly user interface, which will enable end users to have a hand in transforming their own environments. "Everyone wants something unique in the marketplace now," Meyer says. "Everything is out there to be looked at, studied, and inspired by; so we take that and work with our clients and come up with something new and modern that can build on the whole lexicon that cities have put forth."