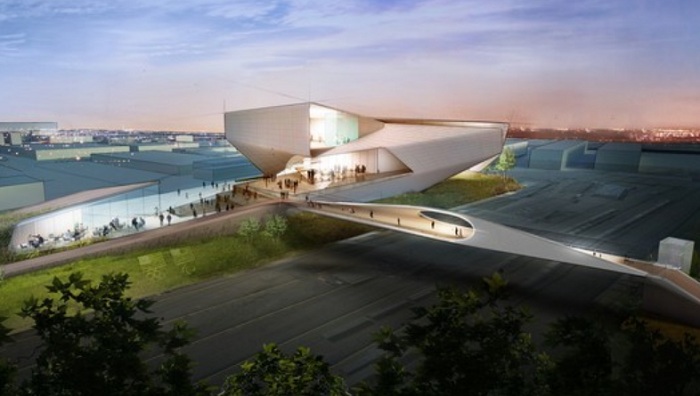 A 550-ton pedestrian bridge has been lifted into place in the city of Colorado Springs, where it will connect America the Beautiful Park with the downtown area.
The bridge was designed by two US architects, Diller Scofidio + Renfro and Anderson Mason Dale, with structural engineering from the UK's Arup and local firm KL&A.
The Southwest Downtown Pedestrian Bridge will contain a lift, staircase and bicycle wells, and will be part of the Pikes Peak Greenway and Midland Trail cycle route
John Suthers, Colorado Springs' mayor, said: "The bridge, from idea to execution, represents how Colorado Springs is coming together to further create a city that matches its scenery. Born of public and private visioning and cooperation, it will link east and west, people and parks, downtown and surrounds.
"Investment in the redevelopment of southwest downtown is creating an urban destination that residents and visitors alike will enjoy well into the future."
Benjamin Gilmartin, DS+R partner, said: "The bridge is an exercise in fitness, both in terms of material and geometry. The hybrid steel structure functions as an arch and a truss, elegantly preserving views from downtown to the majestic Rocky Mountains and Pikes Peak – America's Mountain."
>>>>>