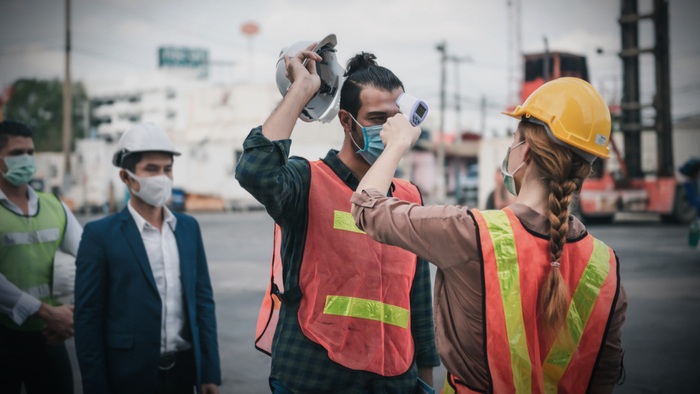 Early in the pandemic, construction workers in Texas were more likely to be hospitalized with COVID-19 compared to other occupations, according to a recent study published in the medical journal JAMA Network Open.
Researchers analyzed hospitalization records at three major health system in the Austin metropolitan area between March and August 2020. Of those patients who listed their occupation, construction workers aged 18-64 were five times more likely than workers in other occupations to be hospitalized with COVID-19.
By mid-May, Austin Public Health had identified 19 clusters of at least three co-occurring confirmed COVID-19 cases in the construction industry and 23 more by mid-July.
"The findings of this study suggest that unrestricted work in high-contact industries, such as construction, is associated with a higher level of community transmission, increased risks to at-risk workers, and larger health disparities among members of racial and ethnic minority groups," the researchers write.
Construction workers were declared essential by federal authorities, and construction was able to continue unrestricted amid shelter-in-place orders in the spring and summer. Researchers said that decision, along with the fact that construction work is conducted in close proximity with others, can be attributed to increased COVID-19 transmission in the Austin community. There are an estimated 50,000 construction workers in Austin, representing more than 4% of the total labor force. That does not account for undocumented workers.
"In Texas, Latinx populations are overly represented among construction workers, and thus have elevated rates of exposure that are compounded by prevalent high-risk comorbidities and lack of access to health care," the researchers write. "These overlapping risks likely contribute to the disproportionate burden of COVID-19 infections and deaths reported within Latinx communities."
According to data from the Census Bureau, the Austin construction workforce is comprised of 66% of Latinx individuals, 7% Black individuals and 3% other minority groups. Nationally, 24% of all construction workers and 48% of Latinx construction workers do not have access to health insurance, according to the Center for Construction Research and Training.
Encouraging safety measures such as thorough cleaning of equipment between uses, wearing of personal protective equipment, restrictions on the number of workers at a worksite and increased health surveillance were associated with a 50% decrease in transmission.