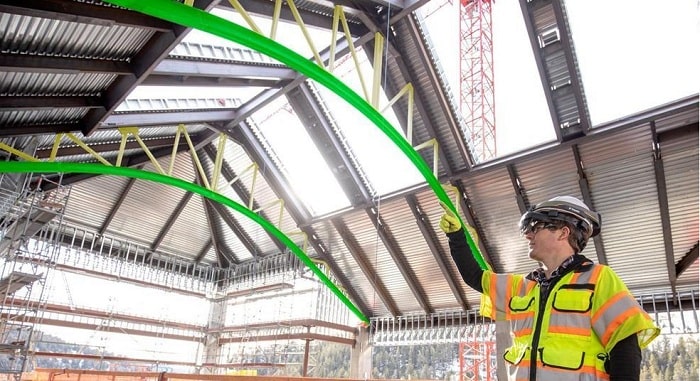 Wearable technology, such as smart helmets and smart watches, is increasingly being adopted by the usually traditional construction industry, as it looks to improve the safety of workers and quickly identify site risks, a report states.
The study by Global Data, updated and re-issued, notes that wearable tech such as the smart helmets developed by companies including Australia's SmartCap Technologies, is helping to increase safety on construction sites.
SmartCap measures workers' fatigue levels and detects 'micro-sleeps', alerting them when they need a break. Other smart helmets hitting the market at present are deploying sophisticated sensor technologies to monitor wearers' vital signs, including their heart rate, and inform site managers of possible issues.
Globally, the wearable tech industry was worth almost $23bn in 2018 and is forecast to grow at a compound annual growth rate of 19% to reach $54bn by 2023, according to GlobalData.
That growth is expected to be driven by sales of smartwatches, whose large range of features, includes cellular connectivity, health monitoring, and contactless payment capabilities, are broadening their appeal. By contrast, the popularity of fitness trackers is waning due to their limited capabilities when compared to smartwatches, the report says.
The growth trajectory has important implications for the construction industry as it seeks to increase its use of smart technology to improve site efficiency and safety.
However, the wearable tech market is rapidly moving beyond wrist-worn or head-worn devices, the report notes, towards 'hearables', which are in-ear devices that incorporate voice-activated virtual assistants.
Such technology is likely to be of interest to the construction industry, where workers are often spread out on sites and there is a need for smarter, and more efficient, communication.
The report reviews some of the case studies highlighting the growing capabilities of wearable tech in addressing business challenges across the construction industry, and identifies key players dominating the wearable tech industry, across hardware, software and services domains.