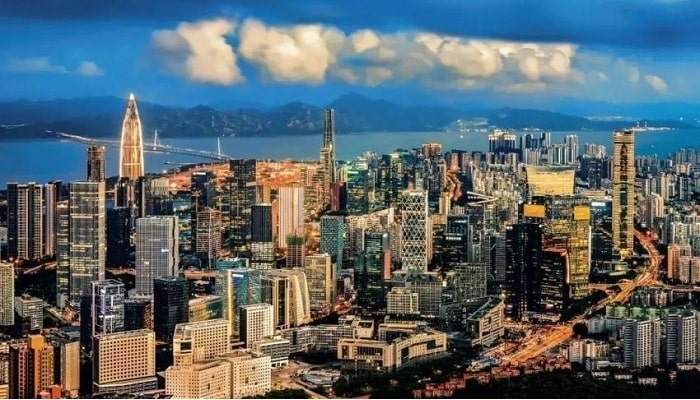 The rapid development of infrastructure construction
Infrastructure development is crucial to the social and economic development of every country. To what extent is the infrastructure developed directly affects the economy of a whole country and people's lives because an improved transportation network can help you import and export products quickly and effectively. High-developed infrastructure would bring a driving force to national economic growth.
In recent years, the construction of infrastructure mainly has the following characteristics:
Advanced technology saves lots of time and effort
With the continuous development of technology, infrastructure development enters a new era where projects like skyscrapers, railways, highways, bridges, water conservancy, hydropower construction, etc. are developing rapidly. Aid in large-scale modern machinery and equipment, all projects mentioned above will consume just a little time and manpower. For example, China's economic development with fast speed amazes the whole world. I do think that this tremendous achievement is due to advanced infrastructures like well-connected roads and railways. The bridge was demolished in 8 hours and the road was completed in 9 hours, which shows the world "Chinese speed".
The numbers of infrastructure are large and growing
From a global perspective, transportation infrastructure is in the midst of a new construction boom. PwC and Oxford Economics jointly released the report "Global Transportation Infrastructure Market Assessment Report: Outlook 2025", which shows that between 2014-2025, global transportation infrastructure investment will reach an unprecedented level.
An estimated annual average growth is about 5%, of which the Asia-Pacific region is still the largest transportation infrastructure market, and the sub-Saharan Africa region will continue to maintain the fastest growth rate. The report also shows that to support global economic growth, infrastructure costs will reach US$94 trillion in 2040.
Frequent demolition
According to a report by Transparency Market Research, by 2025, the amount of construction waste generated annually worldwide will almost double to 2.2 billion tons. Waste materials have caused global safety and environmental problems. For example, in December 2015, a pile of construction and demolition waste (C&D waste) caused a landslide in Shenzhen, China, killing more than 70 people.
C&D waste causes serious severe pollution to human life and the environment
Due to continuous development and update of construction buildings, the amount of waste concrete increases sharply and more than one-third of the total garbage in major cities. In some countries, annually created construction waste is over 30 million tons in which waste concrete waste accounts for more than 34%. The C&D waste not only takes up many human settlements but withstands sun and rain for a long-time, leading to the release of harmful substances. For instance, hazardous substances and mixture released from paint and asphalt in the C&D waste would seep into the soil with rain then causing a series of physical and chemical reactions.
The lethality of construction and demolition waste is astonishing
If the piles of construction and demolition waste are untreated for a long time, it produces a large amount of harmful substance which would be quickly absorbed by plant and germs and seriously impact the cycle of the ecosystem, which destroys the land quality, water, and even human health.
Stacking construction waste, under the effects of temperature and moisture, creates certain organic substances which will be decomposed to produce harmful gases. For example, waste gypsum contains a large number of sulfate ions which are converted into hydrogen sulfide under anaerobic conditions.
Waste paperboard and waste wood can dissolve the lignin and tannic acid under anaerobic conditions and decompose to produce volatile organic acid. When this harmful gas is discharged into the air, it will pollute the atmosphere and cause the earth to heat up.
Bacteria and dust in construction waste would also pollute the air when flying with the wind. Besides, in the incineration process of C&D waste, toxic carcinogens will be produced and make secondary pollution to the air.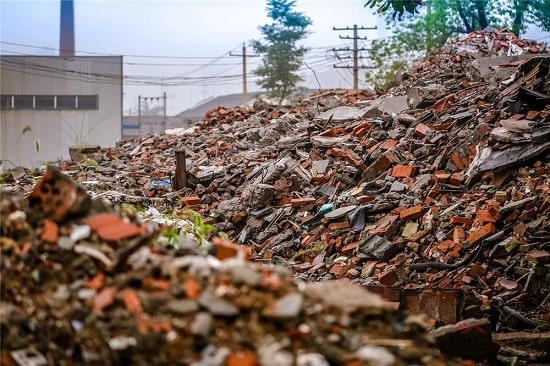 The reasons why C&D debris is difficult to process
It is estimated that C&D material occupies 4,300 acres at a depth of 50 feet, resulting in more than 300 billion square yards of landfill each year. This is not only bad for the environment but difficult for builders to efficiently manage all these wastes the three types of material mentioned above are always most affordable way.
There are three types of C&D waste
Materials that can be potentially reused and recycled include concrete, bricks, stone masonry, titles, asphalt.
Materials that are not capable of being directly recycled but may be recycled elsewhere include timber, glass, paper, plastic, metal.
Materials that are not easily recycled or need particular disposal include paint, solvents, asbestos, plaster.
In most cases, the three types of material mentioned above are always mixed occupation, making C&D waste recycle difficult and complicated. Although not every piece of debris can be recycled, most of them should be recyclable if you want to give it a try.
How to maximize the recycling of construction and demolition waste?
Although construction and demolition waste has brought huge challenges to human society, as long as we do a good job in recycling, we can turn waste into treasure and turn challenges into opportunities.
If builders play a long game, they will find that processing a large amount of commercial concrete waste and then making it into building materials for reuse is a wise choice because the whole project can be processed by various types of crushing equipment nowadays.
The facts show that recycling waste commercial concrete can save a large amount of natural sand and gravel aggregate, reduce the space of occupation, relieve the environmental pressure, and create great economic and social value.
The best way to deal with C&D waste
Huge concrete blocks after crushing, screening, cleaning, and mixing with gravel and cement and waster can be reused as recycled concrete aggregate (RCA). RCA can be used to produce concrete and mortar of corresponding strength levels or to prepare building materials such as blocks, wallboards, and floor tiles. Thick and fine aggregates can also be used for highway pavement bases after adding solidified materials.
Wood in C&D waste is highly useful in a wide variety of industrial processes and merits diversion. Wood waste can also be processed to make feedstock for biomass and combined heat and power plants.
Gravel, aggregate and fines can be screened by trommel screens to realize utilization.
Use waste bricks and tiles to produce aggregates and to make new recycled bricks, blocks, wallboards, floor tiles and other building materials.
The muck can be used for road construction, pile foundation filling.
Scrap steel can be directly reused or refurbished for processing.
Waste glass and plastics can also be used to make recycled glass sand, new plastic products.
According to experts, C&D waste recycling solves the problem of land wasting, allows full utilization of resources, saves costs, and cools the earth. From the rising trend of the construction waste recycling market, it can be expected that the promotion and popularization of recycled commercial concrete are just around the corner.
C&D waste recycling brings changes to humans and the environment
Construction waste recycling has not only changed people's living environment but also brought potential markets to people. Some countries have seized the opportunity to vigorously develop construction waste recycling and have made great achievements.
Japan
Japan is a country with small land and scarce resources and the government attaches great importance to recycling C&D waste. As early as 1977, it formulated the construction waste recycling usage specifications, and successively established recycled concrete processing plants in various places.
According to statistics from the Ministry of Construction of Japan, the utilization rate of commercial concrete is 65%, and the government raises requirements every year until the utilization rate of renewable energy exceeds 90%.
The Japanese government has high requirements for water absorption, toughness, shrinkage, and cold resistance of recycled commercial concrete from concrete waste, so many systematic studies have been launched.
Germany
In the era of rapid economic growth, discarded commercial concrete is increasing every year. At present, recycled concrete aggregate is mainly used for road pavement. Germany is expected to use 80% of construction waste recycled materials in 10% to 15% of commercial concrete projects.
Australia
In Australia, the amount of discarded construction and demolition waste is increasing year by year. For this reason, the country has also launched a lot of research work. Relevant tests show that commercial concrete prepared with 50% construction waste recycled materials has a strength value of B225 to B300, and its resistance to salt and corrosion is also improved.
The use of recycled building materials from C&D waste can save waste costs on disposal, transportation, natural aggregate purchasing. The C&D waste industry still has a lot of room for development and feasibility in economic research.