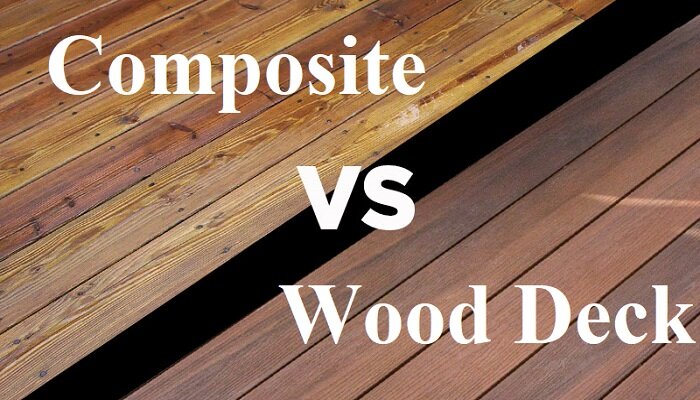 If you're considering your options for decking materials, you might think that the biggest difference is the price, but there's a lot more to this decision than your budget.
Composite decking manufacturers have made significant advancements in developing their products in the past several years, and they are much more affordable than they used to be. However, even though budgets often drive the decision-making process, price isn't the only factor you should consider when deciding which decking material to use.
Before settling on what's right for you, consider how composite decking stands up to wood decks when considering these six factors.
Cost
There have been significant price swings in the price of lumber. Even though composite decking is more affordable than it used to be, installing a wood deck is still less expensive than composite decking materials.
Comparing the costs of wood and composite decking is a little like comparing apples to oranges. The wide range of prices for natural wood decking is due to the numerous types of wood species available. There are also several brands of composite decking materials available.
When you factor in the cost of maintaining a wood deck, you might save money using composite materials, but only if you choose a long-lasting brand. Another factor to consider in the overall cost of your project is that composite decking is heavier than wood, yet it is less rigid and may require more support.
Installation
In general, wood is much easier to install than composite decking, but both require some skill and the proper tools. Also, since composite decking is less rigid, it can appear wavy if your deck joists aren't perfectly level.
If you have questions about installation, contact experienced deck builders in your area for a quote. Take advantage of their experience to get advice on which option is right for your project. Because they have worked on countless deck projects, they can also give you fresh ideas that you wouldn't have thought of otherwise.
Maintenance
Maintenance is a factor for many people in purchasing composite decking. While traditional wood decks require staining, painting, sanding, and sealing, composite decks do not. Wood decks typically require staining or painting every two to three years.
Composite decks require much less maintenance and can be cared for with regular rinsing or cleaning. Avoid power washing your composite decking, though, because it is softer than wood, and too much pressure can ruin the protective cap.
Durability
Composite decking materials feature a core made from either 100% polymer or a blend of wood and plastic, protected by a high-quality cap. Composite decks are resistant to rot, splintering, and warping. Both wood and composite decks can last a long time when they are properly maintained.
Cheaper composite decking materials can be less durable, however. In addition, the quality of the core and the protective cap can affect the overall quality of the decking. Some of it fades in the sunlight, and inexpensive composite decking brands have been known to split and warp when the protective cap pulls away from the core.
Generally, a wood deck will last about 15 years, and composite decking will last about 25 years.
Aesthetics
When it comes to which one looks better, composite and wood decking is a matter of personal choice. Many people prefer the aesthetics of wood because it is natural, and because you have to stain or paint it every few years, you can choose a color to match your home.
Composite decking also comes in a variety of colors and textures. So if you want the durability and low-maintenance benefits of composite decking, you don't have to sacrifice when it comes to color choices.
Composite decking comes in three families of color, including grays, browns, and reds, and there are 23 shades to choose from in the Trex brand alone. So you can easily find a perfect color and texture that suits your tastes.
Another factor to consider when deciding between composite and wood decking is that composite decks are susceptible to fading over time. Due to their plastic content, they fade over time, especially when exposed to direct sunlight. Also, unlike wood, they can't be painted or stained.
Safety
Composite decking is generally considered safer than wood decking because it doesn't split, rot, or crack. However, splinters from wood decks can be common, especially if the wood isn't well-maintained.
Both of these types of decking are incredibly slippery when wet, but there are things you can do to fix slippery composite decks. Non-slip solutions include slip-resistant mats and tape, and you should also make sure your deck is clean because dirt and grime can become slippery when combined with moisture.
Heat retention is one of the biggest safety concerns with composite decking for young children and pets. Composite decks absorb and retain heat, making them extremely uncomfortable walking on during summer. Choose light colors of decking if this is a concern for you. Use a Pros and Cons Decision-Making Process.
There are pros and cons for both composite and wood decking. Before deciding which material is right for you, list the pros and cons. Then, consider the abovementioned factors, and consult professional deck builders for the best advice. Ultimately, the choice is up to you and will depend on your budget, tastes, and lifestyle.