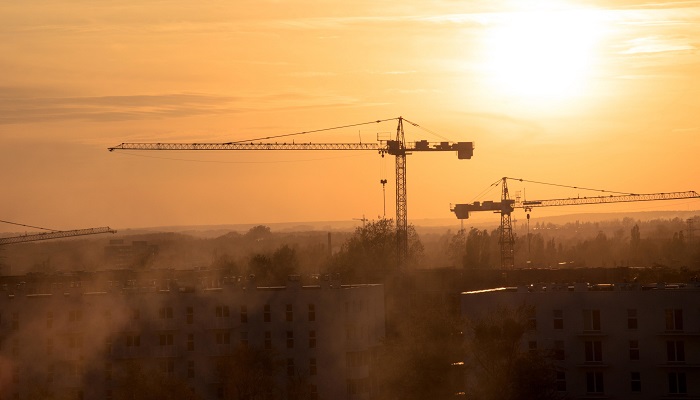 Despite the fact that there is an increase in energy efficiency investment as well as a lower energy intensity, the building and construction industry's CO2 emissions and consumption of energy have rebounded from the pandemic to an all-time high, as per a new report.
Released during the latest round of climate talks in Egypt, COP27 goes on to find that the industry accounted for more than 34% of energy demand as well as almost 37% of process-related CO2 emissions and energy demand in 2021.
The industry's energy-related CO2 emissions went on to reach 10 gigatonnes of CO2, which happens to be equivalent to 5% over the 2020 levels and 2% over the pre-pandemic numbers in 2019. In 2021, the operational energy demand when it comes to heating, lighting, and cooling, as well as equipment in buildings, increased by almost 4% from 2020 and 3% from the year before that.
This, as per the report given by the Global Alliance for Buildings and Construction, goes on to show that the gap when it comes to the climate performance of the industry and the 2050 pathway of decarbonization looks to be widening.
According to Executive Director, United Nations Environment Programme, Inger Anderson, years of warnings on climate change and its impact have become a reality, and if one does not go on to quickly curtail emissions that are in line with the Paris Agreement, then the troubles are going to be deeper. It is well to be noted that the construction sector happens to represent 40% of the energy demand in Europe, and 80% of it comes from fossil fuels. These figures make the industry an area for immediate action, funding, and policies that promote both short- and long-term energy security.
The decarbonization of the construction sector by 2050 is surely crucial to delivering these cuts. In order to curtail the total emission, the industry must enhance the energy performance of the building, decrease the carbon footprint caused by building materials', elevate the commitments made in policies beside the action, and also raise the energy efficiency investment.
Some key trends
The industry's intensity of emissions in kilogrammes of CO2 dipped from 43 in 2015 to 40 in 2021.
When it comes to the intensity of energy in kilowatts per hour per square metre, it did marginally decrease from 2105's 153 to 40 in 2021.
Building energy efficiency investments have also notably gone up by unparalleled levels, enhancing by 16% in 2021 over the 2020 levels to a figure of US$237 billion.
That said, growth when it comes to energy efficiency as well as reducing its intensity is outperforming efforts.
The rise in the world-wide gross floor area between the years 2015 and 2021 happens to be equivalent to the overall area in the buildings covered across the Netherlands, Germany, Italy, and France if they were to be built on one level at almost 24000 sq. km. The report mentions the fact that investments in the energy efficiency sphere must be sustained during growing crises like the Ukraine war and the occurrence of energy and cost of living crises so as to reduce energy demand, avoid CO2 emissions, and also dampen the cost of energy volatility. All this makes the segment an area that needs to be looked into immediately with investment as well as policies that promote both short- and long-term security in energy.
The report stresses the fact that the sector can still undergo change. For instance, the rising cost of fuel because of the war in Ukraine as well as the cost-of-living issues are offering incentives to invest in energy efficiency. That said, the purchasing power erosion as well as the labour and material impacts may as well slow down the investment.
As per Anderson, the solution may very well lie in the government's directing relief for low and zero carbon activities related to building investment by way of financial as well as non-financial incentives. It is also critical to lessen the emissions from the sector by including buildings in climate pledges under the umbrella of the Paris Agreement, also known as Nationally Determined Contributions- NDCs.
It is well to be noted that the number of NDCs that mention buildings saw a jump from 88 in 2015 to 158 in 2021. However, progress on construction and building policies as well as actions remains slow. Nations with building energy codes increased from 62 to 79 during the same time. That said, only 26% of them have building codes that are mandatory for the overall sector.
Raw resource usage is estimated to double by 2060, with the likes of concrete, steel, and cement already being major contributors when it comes to greenhouse gas emissions. Materials that happen to be used in building construction already constitute around 9% of the total energy-related CO2 emissions.
The carbon embodied in buildings as well as emissions related to materials and the construction process have to be tackled in order to avoid energy-saving measures. That said, the sector can also lessen its impact by stressing alternative materials as well as decarbonizing traditional materials like cement.
It is well to be noted that the African population is anticipated to touch 2.4 billion people by 2050, and notably, around 80% of the growth is going to occur in cities. There is a forecast that says that almost 70% of the building stock in Africa expected for 2040 is yet to be built.
So as to avoid the emission increase while also building stock essential to moving people out of informal settlements and creating buildings that are impact resilient in terms of climate change, the African sector must look into sustainable building materials as well as design in which the continent happens to be rich.
It is well to be noted that the African continent happens to be rich in solar, wind, and other renewable energy sources, which countries there can utilise when it comes to powering buildings sustainably.
The recommendations –
Form coalitions of natural stakeholders so as to set targets and also build strategies towards net zero.
National as well as sub-national governments must go on to form compulsory building energy codes and set a pathway as per their own standards to hit net zero as early as possible.
Government as well as the non-state actors must raise their investments in terms of energy efficiency.
The real estate and construction sectors must go on to implement strategies related to zero carbon for both existing and new buildings.
The construction sector as well as the building materials industry must commit to reducing their CO2 emissions across the value chain.
Governments, particularly cities, should implement policies that promote the transition towards circular material economies.
Rapidly growing nations as well as economies need funding for supply chain and capacity building activities that promote energy-efficient designs, sustainable construction, and low carbon.