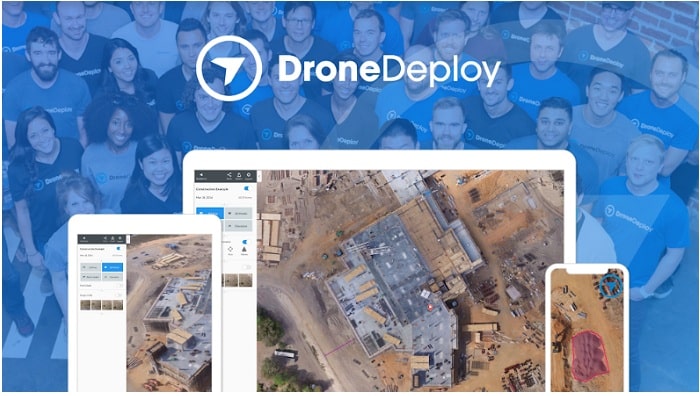 Cloud-based drone mapping and analytics platform startup DroneDeploy announced today it has raised $50 million in new funding to expand its products beyond aerial capture, accelerate its expansion into Europe and explore opportunities for strategic acquisitions.
The Series E round was led by Energize Ventures and AirTree and included Bessemer Venture Partners, Scale Venture Partners, Emergence, AngelPad, Uncork Capital and Frontline Ventures.
Founded in 2013, DroneDeploy offers cloud-control software solutions for drones that include automated flight safety checks, workflows and real-time mapping and data processing. The company says its platform makes it possible for companies of any size to improve their workflows through scalable image processing, data storage, real-time sharable drone maps and 3D models.
Designed to transform the way businesses leverage drones and aerial data across industries, including agriculture, construction, mining, inspection and surveying, the platform to connect developers, hardware partners and pilots with a common tool base. Along with a mobile app, DroneDeploy also offers an app market for drones that allows third-party developers to create and offer apps for all aspects of cloud-based drone data analysis. It also offers support for offline and slow-internet drone analysis in remote areas.
Thanks to a combination of COVID-19 and social distancing measures, there has been a surge in demand for remote, cloud-based solutions. DroneDemand saw 259% annual growth in enterprise use in 2020, with a surge in adoption by Fortune 500 energy, agriculture, engineering, property and logistics management and insurance companies.
"Enterprise use of drones is exploding. Across the globe, the largest agriculture, logistics, construction and energy companies are operating fleets of hundreds of drones and they are using DroneDeploy to manage them," Mike Winn, co-founder and chief executive of DroneDeploy, said in a statement. "At the same time, companies are digitizing their sites inside and out, creating full digital twins of their assets. We have expanded our drone technology with the ability to capture and analyze images from ground-based cameras operated by people or robots."