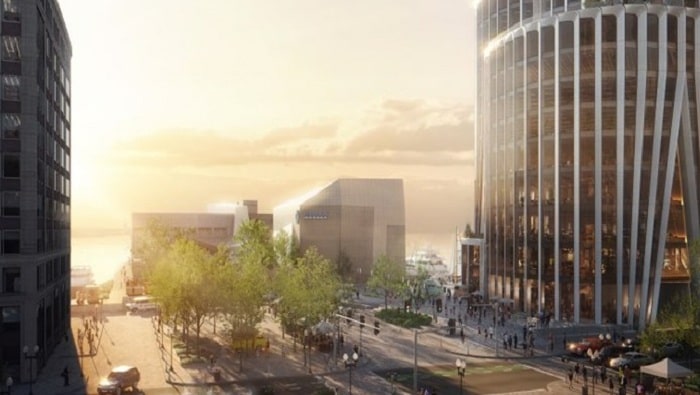 The Chiofaro Company, a US-based privately-held independent firm, and Kohn Pederson Fox Associates (KPF) have unveiled plans for $1.2bn Boston Harbor Tower, dubbed The Pinnacle at Central Wharf, on the Boston Harbor waterfront.
Designed by KPF, the proposed project will replace the existing block-long, seven-storey parking garage with a new mixed-use campus to bring the new energy and access to Boston's waterfront.
Earlier this month, Chiofaro has filed a Project Notification Form (PNF) with the Boston Planning and Development Agency (BPDA) for the redevelopment of the project.
The new project is a single 600ft tower that will cover a total area of about 865,000ft². It will include nearly 200 housing units, about 538,000ft² of office space, approximately 42,000ft² of public space, including retail, restaurant and space for activities.
The development will also include more than 28,000ft² of new open space, representing 50% of the site
The building will also feature latest design strategies related to climate resiliency, energy, emissions, water, and materials to reduce its environmental impact, protect infrastructure, and improve the health and wellbeing of the community it serves.
The project, expected to secure LEED Gold rating, will include efficiency measures such as a high-performance envelope, high-efficiency mechanical and ventilation systems, and low-flow and low-consumption plumbing fixtures.
The development may also feature cross-laminated timber decking, combined heat and power energy generation, solar photovoltaics and rain and greywater reuse systems.
KPF environmental design director Carlos Cerezo Davila said: "At KPF, we are committed to creating resilient architecture that mitigates its lifecycle impact on environmental resources, and that protects and enhances the wellbeing of surrounding communities.
"The Pinnacle at Central Wharf exemplifies these efforts through its holistic approach to energy use and emissions reduction, its façade design, and its significant contributions to a more resilient, active and accessible Boston Harbor waterfront."