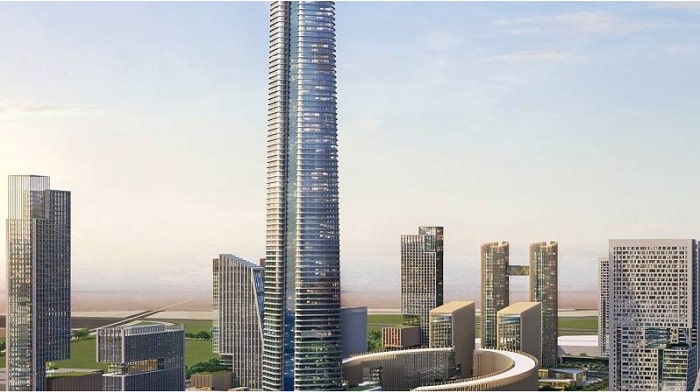 China State Construction Engineering Corporation (CSCEC) says it is on course to hand over the 20 commercial towers comprising the central business district of Egypt's New Administrative Capital, including Africa's tallest tower, by 2022.
Five thousand workers, 1,000 of them Chinese, and 1,600 engineers, half from China, are toiling on the project, which officially got underway in May 2018, CSCEC's general manager in Egypt, Chang Weicai, told Chinese state news agency, Xinhua.
Set to be Africa's tallest skyscraper at 385m in height, the Iconic Tower is going up at a rate of one floor every six days or fewer, said Chang. It stands at 100m now, with 16 of the planned 80 floors complete.
"In the second half of 2021, we will start delivering the 20 buildings one by one. By 2022, we will deliver the whole project with a completed construction area of about 1,900,000 square meters," said Chang.
In recent years there have been a number of contenders for the title of Africa's tallest tower, including the Leonardo in Johannesburg (227m), and the Bank of Africa Tower in Rabat, Morocco (250m).
However, none under construction surpasses the Iconic Tower, which beats even Hass Petroleum Group's Pinnacle towers scheme (300m), which CSCEC itself is building in Nairobi, Kenya.
CSCEC was signed on to build the $3bn central business district in October 2017 after withdrawing from the scheme in a disagreement over costs in February of that year.
In March 2018, Chinese banks agreed to finance 85% of the central business district's $3bn cost.
Egyptian President Abdel Fattah el-Sisi unveiled plans for a new capital built from scratch in the desert 45km east of Cairo in March 2015.
At the time the new capital was described as covering 700 square kilometres in total. It was to house more than 30 ministries of the Egyptian government, and be a new business, finance and cultural hub, with residential districts accommodating 7 million people.