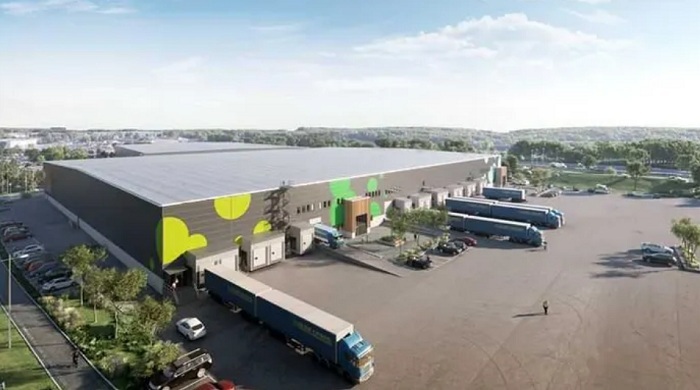 Castellum has begun construction work on a third facility in Brunna, Stockholm, which it aims to occupy in Q2 next year.
The SEK 154 million project on Mätarvägen 43 has 11 meters ceiling height, marshalling yards, cargo buildings and ground gates, and are "perfectly adapted" for warehousing and logistics companies in need of large areas, with up to 1,700sqm in lettable area yielding an annual rental value of around SEK 15 million.
At the end of 2016, Castellum acquired a land area in northern Stockholm, ideally located adjacent to the E18 along the Stockholm-Enköping route and close to the E4 motorway, Mälarbanan railway and Arlanda airport. Since then, the Brunna logistics area has grown rapidly with new tenants.
Large companies such as ICA, Swedish Match, Altia, Zalando and Ramirent are already in place in the area where Castellum owns just over 180,000 sq.m. of built-up and buildable land, spread over six properties.
Martin Bjöörn, CEO of Castellum Region Stockholm-Norr, said: "E-commerce continues to drive demand for modern premises in good locations. I expect great interest and quick rental of this attractive project."
In other developments, after successful renovation of the historic property on Torsgatan 22-30, Castellum is ready for the next stage in the renewal of the entire block by planning for three office buildings with modern workplaces and activities that can attract visitors on evenings and weekends.
Research Institutes of Sweden has decided that Sweden's largest testbed facility for EVs will be located at Säve in Gothenburg and construction of a 15,000sqm site will start soon.
Northvolt recently announced the acquisition of Cuberg, Inc., a U.S.-based battery technology company delivering high-performance lithium metal cells produced on existing lithium-ion manufacturing lines for electromobility solutions. Northvolt will establish an advanced technology center in Silicon Valley based on the Cuberg acquisition and is actively hiring top battery industry talent.